WPT Venice 2011
It was time for my first WPT tournament! I was told I had to be 21 to play WPT (still 1 month until I turn 21) but later understood that was for the WPT in the US but not in Europe. Great, so I registered for €3000 + 300 WPT Venice. Flew from Gothenburg via Amsterdam and I played day 1b which started feb, 4th. I realized I had made a mistake when I booked the hotel. It was located very close to Casino di Venezia which turned out to be a theatre quite a distance from the real casino… so we had to commute by boat taxi during the stay. It would be cool with a deep cash first time I play a WPT tourney and if I win I will be the youngest ever to do that. It was James and Scotts first WPT also.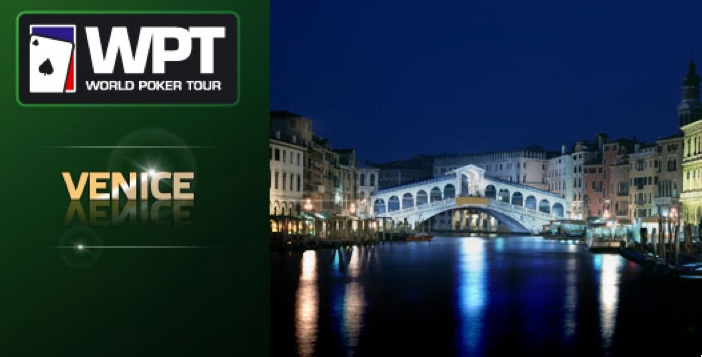 After travelling 8 hours I'm now back home in Gothenburg. I busted the last minutes of day 1. /big sigh. I will give you a short recap from the tournament here.
I had to switch table 4 times during the first day. With blinds 75/150 I raised 400 with -Kd9d in mid position, late position flat called and flop came -Ts8d3d – I checked in order to checkraise. He bet 600, I made it 1600 and he called. Turn -Ac, I checked and so did he.. river -9h…. I bet 3K, he tanked and folded JJ . /np
There was a funny German guy on my first table who I found weak to 3-bets, so I profitably reraised him many times preflop which made him extremely tilty, other players asking eventually if he was my ex. /lol. Anyway he was later 3-bet from another guy and ended up bluffing all in with -KhQh 50 bb on -Jh8c3s flop, got called by -QQ and hit a runner runner flush. loooool /no kidding.
Our table broke and I was moved to another table which was very loose with several big stacks. I immediately got a good feeling that I could increase my stack significantly here. Blinds 300/600. I raised 1,5K with -KJ from hi jack and a loose Party Poker team pro called on the button. Flop was – JsTh7c, I bet out 2,5K and he snap called. Turn 3d and I bet 5K and he called again. River – 6c … I bet 10K. He tanked a very long time asking me if i bluffed with AK, but I said nothing to avoid giving away tells.I talked to him later and he told me he only had -99 but was close to call.
Once again, just when I had established my image and was ready for some more moves our table broke. I came to a new table where I didn't have any luck. I had – AhKh on sb and 3-bet a guy preflop. He went an all in against me and I snap called for a 40bb pot vs -TT preflop. Board did not help me… This level was expensive for me since I didn't get any decent hands and ran into big hands when i tried to steal in position. At the end of the level i only had a 20bb stack.
Blinds 600/1200. I had – AQ on sb and a guy raised in late position I decided to ship it in. He thought for a while and called. -44… Was a bit surprised he called with half his stack risking to be dominated but his hand held up and I was out just 10 min before the end of day 1. /sigh : (
I went to cheer for James and Scott who were still in with healthy stacks going into day 2 but unfortunately no PKR colors at the final table this time. Very disappointed to not go deep in the tournament but had a nice time in Venice anyway with lot's of nice Italian food. I cold kill for the Italian food especially the pasta. Have to say it's a special city with all the small roads and canals but /omg it's a labyrinth… praise the Lord for iPhone google maps
Next live tournament is already the 12th in Nottingham for UKIPT where Scott, Jake and some other PKR players are also playing. Will pack today and go there tomorrow via London. I will update you about this. Bring on Nottingham!