WPT Malta – I bluffed Phil Hellmuth
Today I played WPT Malta Day 1B. In this sunny city I stay at the very nice Hilton Hotel next to the Portomaso Casino where the tournament is.
I started on a very loose table with several Italian players opening every pot. Without any hands I established a tight image and later made some 3-bets and steals when they had respect for me. I was very card dry in the beginning of the day but kept my stack.
After changing table I came to a 4 girl table, including myself and Kara Scott to my right. It was incredibly soft so I started out aggressively and picked up some good pots immediately. I made some 3-bets on a Ukrainian pro Vitalii Minakov uncontested, when he tried to steal my blinds and quite soon he stopped.
Blinds 50/200/400
EP raised 900, I called with 6-6 and BB called too. Flop came Q5cQc and PFR bet out 1650. I raised to 3800 and he called after a while. Turn 7c, he checked and I checked. River was Ks and he checked and I quickly threw in 6K chips. He seemed disappointed, said nice Q and folded.
Then, followed by a large crowd of stalkers and media people, the great Hellmuth came to my table! I've played with him before (WSOPE) and thought this could be good – as you know he is usually pretty tight. A girls table and Phil Hellmuth lol – I raised like 75% of the hands and won without showdowns. Phil was in a very good mood and talked a lot. He came to Malta because he was trying to win the "player of the year title" He also told me about the ugly pink cap he had to wear because he lost a side bet vs. Dwan, lol.
MP raised 900 and I flat called with KQo in CO. Kara Scott squeezed to 3K on the button, MP folded and I called. Flop was K98, she bet out 5K and I called . Turn 4 and she checked with me checking behind. River 9 and she check folded to my min.bet. After this she had only 9k left and busted a couple of hands later.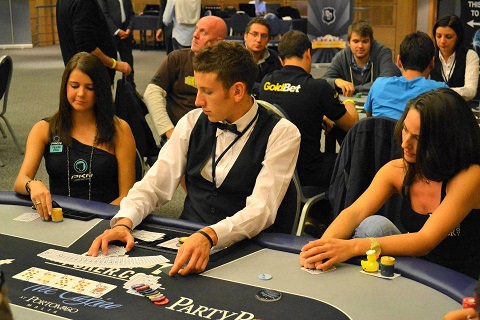 50/250/500
After some aggressive bluffs I picked up AA on the button – nice! CO raised 1200, I made it 2800 and he called. Flop came KT5, he checked and I bet out 3800. He thought for a while and reraised to 9600… I flat called after a while and turn was 8. He checked and folded to my 9K bet.
I played another fun hand with the Brat. TJh in MP and I raised 1250. Everyone folded to Hellmuth on SB. He reraised to 3250 and I called him. Flop came 7s8s3, he checked and I checked behind. Turn was 5d and he bet out 3500… I called. River was a K and he checked. I threw in 6K and he was shaking his head. He folded and I showed J high. Funny to see his tweet later:
@phil_hellmuthphil_hellmuth
Ended Day 1b w 34k in chips, coulda had 54k if I called "Swedish girls" bluff on river w my A-10 on 8s-7s-2c-5d-Kc board, sigh…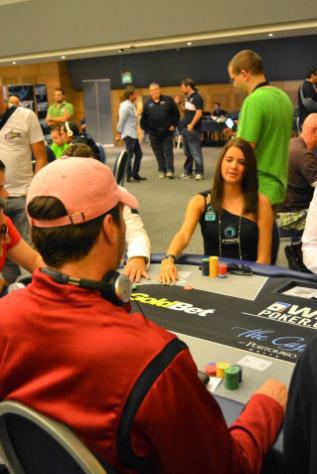 I'm happy with the way I played and will start day 2 with 76K (avg 47K) in like 20th place of the 154 remaining. It was a long day with 3 interviews and needed a good night's sleep.
(Interview) http://www.globaleventcoverage.com/event.php?e=wptmalta20