Vegas for the first time!
Last year my fellow Team PKR Pros and loads of other people went to Vegas while, because I was under 21, I had to stay in Sweden. I turned 21 about two months ago, so now I can finally go to the capital of poker, yay. /cheers / dance. I have sky high expectations! My new wallpaper in my Grinding Room is the closest I have been to Vegas so far.
I'll fly to Vegas the 18 June via London and Chicago and have booked a really nice hotel room for three weeks. I'm planning to play five or six NLHE events and my goal is to go really deep in one or two. My events are #36, #43, #48, #53 and maybe #38 & #45.
Would be cool to win a bracelet as the youngest player and the first Swedish woman but to be honest, the money is as important for me. Of course I will also play some live cash game in different casinos. I've heard all about the good value in Vegas casino poker rooms.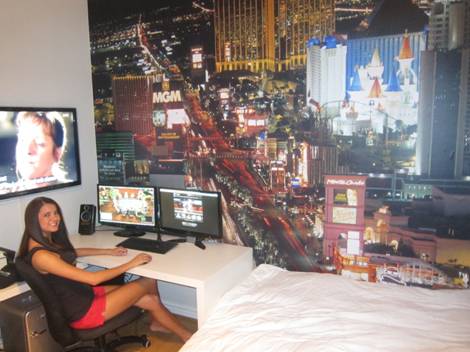 Another expectation is to have an awesome time together with all the other PKR people and have fun at the PKR parties. I also look forward to spending some time checking out Vegas, shopping and getting to know the city.
Right now I have a tough time surviving the heat in Gothenburg, it's 30C so that could be another challenge in Vegas where it can get above 40C. You will probably see me a lot near the hotel swimming pools. This and nice drinks in the pool bar will definitely be very tempting between poker games.
I'll keep you all updated about the events in the forum when it's time and you can also follow what's happening to me on my Twitter page.
The countdown has started. Las Vegas Baby!!!