UKIPT London ME £1.100
I played Day 1B of UKIPT yesterday which was the first leg of three on this exciting London tour. The tournaments take place in Grand Connaught Rooms in Covent Garden.
It was a roller coaster day 1. From starting stack 20K up to 28K, down to 18K and up to 42K, then back down to 11K and up again to 20K. Then finally bust in the evening all in pre flop with KK<JJ.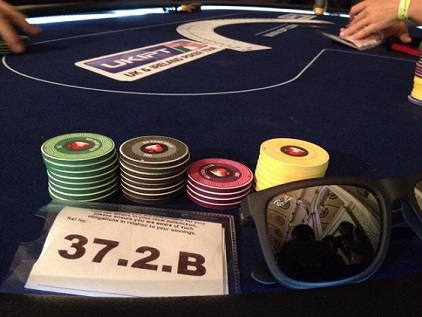 Here are some interesting hands that could be worth sharing:
Great start with a flush
Co open raised 250 and I 3bet on the button with Q9dd to 625. He called and checked on the flop 2d3d8 I c-bet 750 and he 3bet to 2k. I called in position with overs and a flush draw. Turn came a J and he bet out 2,4k in a pot of 5,4k. I had implied odds if he now had a strong hand like a set and called with my flush draw and gut shot. River was the nice 8d and he bet out small 3,1k. As the board paired I just called and he showed AJcc.
I was off to a good start from 20k starting stack to 28k.
Bad runner cards
A loose player Fredrik Halling was playing almost every hand. Utg opened 250 and Halling 3-bet to 900. I picked up QQ on the button and decided to just call. Heads up to the beautiful flop 888. He bet 1K and again I just called. Turn K- not the best card. He bet out 1,8K and I called again. River A… he bet out big 5,2K. The worst two cards in the deck had arrived and I folded my queens. Here is me hoping he had AK, kings or rockets and that the turn and river saved me, losing only 4K. But maybe I was bluffed…
Rivered by a 3 outer
Middle aged guy open raised 400 mp, I 3-bet to 1,1K on the button With AK and he called. The flop was J85, he checked and called my c-bet of 1,1K. Turn A and we both checked. River 4 and he bet out big 3,5K. Called and couldn't beat A4 …
After a couple of bad beats I was down to 13K. Then I stole some pots and was back to starting stack.
Hero call
Blinds 50/200/400, I raised 1k with 55 in mp, loose London guy called on co and btn called as well. Flop 2d3d8 and everybody checked. Turn 8 and I checked again, knowing one of the other would take a stab on the pot. London guy bet 2k, button called and feeling they were not strong I 3bet to 5,5k. London guy called and the other folded. River J. I checked and he went all in 18k. I had around 13K behind.
The London guy had been bluffing before and showed hands like 9To, 34 and T8 so I was thinking he could easily have a missed flush draw or been floating with a hand like A5. After watching him closely for quite some time I strongly felt that he didn't want me to call. I followed my instinct and put my last 13K chips in the middle and called. I was right and he showed A2ss for a stone cold bluff – Up to 40K!
Cooler for half of my stack.
75/300/600 7 handed I raised 1,3k with 99 in mp and button middle aged guy 3-bet to 2,8k. I called and then checked on the flop AdQd3. I didn't like the two over cards but liked to see him checking behind. Turn came 3 and I decided to take a stab at the pot and bet 3K which he quickly called. The river 9 gave me a full house. I bet 6,6K for value and he went all in for 18k…
Shit.. checking flop and then all in on the river, he slow played aces or something, I was thinking. But I was never folding with so much equity in the pot and a full house. He showed QQ for a better boat and I was down to 18k.
Then I called a shorty all in preflop with KJ and lost to his T6dd. Flop TT6 was at least better to see than a single 6 on the river… Down to 13K.
Busting with KK
Just after dropping 75% of my stack I changed table and Julian Thew, a great player who I busted at the feature table of Irish Open 3 years ago , was at my table with a big stack.
I stole a couple of pots preflop and then 4-bet all in with KK and I got snapped by a guy with JJ. He turned a flush and I was out.

It clearly wasn't my day and hopefully I'm saving my luck for EPT starting in 2 days.
I'll be back already on 7th, this time for next leg, a really big one, EPT London ME.