Think like a winner
Originally written for PKR's Raise your game, by Sofia Lövgren
"Always be positive. I've seen so many talented and skilled poker players who are so negative and hard on themselves. I can see a trend where their game slowly changes to the worse while those who are more optimistic have longer and more successful careers".
These are the words from WPT winner and APT ambassador Nam Le, who was asked for his top tip to becoming a successful poker player. To be a winning player you need not only technical poker skills and bankroll management but also the right mental strength to withstand bad variance and big setbacks.
The vicious circle
Negative thoughts will create a self fulfilling profecy. It won't work. It didn't work. I knew it. Typical me.
After a very standard bad beat this vicious circle will start, you'll tilt a little and without noticing, you will play worse. Even if you think you are handling the losing streak it will for sure affect your game negatively. It's all about self confidence. All successful poker players as well as top performers in all kind of sports will confirm this. When you later go back and review your game this will be obvious.
When you're on a downswing, two equally negative things can happen. Either you blame bad luck instead of improving or you start being self destructive and question your own competence. In Larry W. Phi's book 'The Tao of Poker', he describes perfectly the feeling you have while running bad for some time.
"All real gamblers know the feeling of serious re-evaluation, of taking stock of one's life. They know the feeling of: Maybe you are in over your head; maybe you never understood the game from Day One and you've been fooling yourself all along. Your opponents had you're number all along and you didn't know it. Oh sure, a period occurred when you were running well, and that threw them of briefly – and allowed you to keep the fiction going to yourself – but by and large they had your number all along.
All real gamblers know the Inner Scream. It´s like the face in the painting… only it's on the inside. It's a scream for just average luck, not even for good luck any more. For that wondrous stage of affairs where, every time you get annihilated, there is some kind of offsetting win of some kind, somewhere. It is pleading just to break even."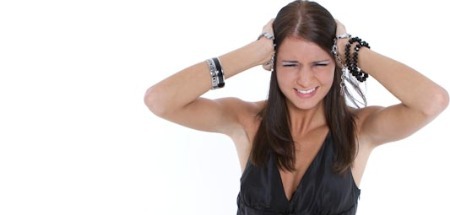 The annoying part, really, is not the losing. And it's not the money either. Because you can always get more money. It´s a feeling of betrayal almost, the appearance of a suddenly topsy-turvy world where logic no longer seems to function, where bad players win effortlessly, and good play is penalized. It's a funhouse-mirror world where logic – and the familiar laws of long experience – no longer apply. It's as if you accidently dropped something, some object, and now the object falls up, not down. It's the dismissal of a world you knew – or thought you knew.
You question your game. You question deeper things too; your luck (ill-starred from birth?), your fate, your destiny. You start to dredge up the memories of all the losses in your life, going back to grade school and beyond. And in retrospect, they all do seem to form a pattern. You begin to question your grasp of the fundamentals, your body language ("Am I utterly transparent to the other players?"). You begin to question your religion, your god, your place in the universe. You become the dictionary definition of indecisiveness – doubtful, tentative, defensive, and fatalistic."
Sound familiar?
Theory's fine, but what about execution?
When you're running bad, do all the standard things like taking a break, taking a walk, work out, or you'll only spew off more money. But it's not enough, these are temporary solutions. At some point you have to decide whether you should be a negative loser or a positive winner. Easy to say, harder to do. Here are four steps to get you started:
1. Spend time with winners not losers
It could be tempting to talk to people who have similar problems since it usually feels good when you realise it's not just you. On the other hand the risk is obvious, you will spend time in a losing thought culture with negative energy and find external excuses instead of dealing with the real reasons. A much better way is to associate and spend time with winners. They'll give you all the positive energy you need to get back on track. Look for people that you respect and admire for their performance. They will most likely also share some winning ideas that can make the difference.
2. Good deeds
Research shows that doing nice things for other people activates a part of your brain that creates a sense of feeling good. Dr Stefan Einhorn has explained the way this will start a positive process leading to a better platform for performing better. I'm quite sure you have friends, loved ones or family members who you could help out with small things that will brighten their lives. It will give you loads of energy and the self confidence that will help with your positive winning attitude. This is easy. Start today!
3. Start positive
If you look into the mirror with a grumpy facial expression, what do you see? And if you smile? This is the mirror effect, and one more powerful than you would ever believe. Some people radiate energy. Some people suck it in. You make your choice.
Even if you feel bad you should never start the conversation by showering others with your problems. You'll set the negative tone and begin a cycle which will depress others and you. Soon people will be looking for excuses not talk to you!
And remember, nobody is interested in your bad beats. Keep them to yourself and instead share the moments where you were lucky or made a good play. I know a guy who said he never talks to people about his problems since 90% of the people don't care and the remaining 10% feel good about it! Hopefully it's not true, but it's a matter of giving and receiving positive energy. Of course you should talk to people when you have serious problems, only don't dwell on it and remember to always begin with something positive!
4. Ready to take the next step
Everybody playing poker or doing other competitive activities recognises the feeling when, after some success, you hit the wall and can't get anything going. No matter what you try, it doesn't work. Since all development moves in steps, this could actually be a positive sign, believe it or not. It's because you are now ready to take the next step. The way you currently play will not take you any further so in order to be even better than before, you need to make some fundamental changes. It will be challenging and possibly time consuming, but it will be highly rewarding. If you really do it, you will soon establish yourself on a higher level than before and win more than ever. Just remember, this will ONLY work if you decide to think POSITIVE!