SHAME ON YOU BOYS!
I had a day free before the EPT Main Event in Deauville January 2015 so decided to have some fun and play the EPT Ladies Event for the first time.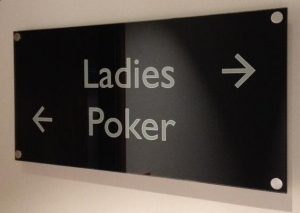 When I sat down at my starting table, I found three men there… What?
I looked around me in the room and to my big surprise saw the same at each and every table! 22 of the 83 entrants were men. In a LADIES EVENT!
When we were 13 players left, 5 men and 6 ladies, I couldn't help laughing when I heard the announcement: "Congratulations ladies, you're all in the money"
A little later at the final table we were 5 girls and 4 men. "Congrats ladies you've all made the final table"
YES, we were playing in France AND it's illegal to forbid men to join the ladies event. The men added money to the prize pool and as you can imagine they were definitely not very good poker players. I thought the tournament was fun and will play the WSOP Ladies Event this summer and more in the future when I find the time. I still think this was stupid and incredibly embarrassing for the men.
More importantly, poker needs more female players since we are less than 5 % of all live players on the tours. One of the big benefits with Ladies Events is that some girls feels it's less intimidating to start playing live poker with other female players.
SO SHAME ON YOU BOYS who don't respect the idea of Ladies Event in live poker.
- – - – - – - – -
How I finished at the final table? I lost a flip for the chip lead and to knock out Sabina, the girl who a little later finished second behind a man. At least she got the trophy. I finished in 5th place as the third woman.
Ladies Event…