Say no to slow
Originally written for PKR's Raise your game, by Sofia Lövgren
Use the slowplay sparingly, lest it prevent you extracting max value with your monsters
With blinds $1/$2, you are dealt 55 on cut off. Early position raises $6 and you make the call to set mine. The flop comes a juicy Ah5h7. Your opponent c-bets $10 and you just call. The turn is the 9, your opponent bets $18 and you call again. The river is the 2h. Your opponent checks and you make a value bet of $34. Your opponent tanks but finally makes the call. You show your set of fives, he mucks his AK and you win a nice $139 pot.
You are enjoying that great feeling where you just tricked the opponent and scooped a $139 pot. This is what poker is all about! Or is it?
I played a similar hand the other day in an online 6-max NLH 200 game. Early position raised $6 and I called in late position with my 66.
The flop came AhJh6 and he bet out $10. I 3-bet to $26 and he 4-bet to $68. Now I put him on A-K, A-Q, A-J or a flush draw. It could also be a bluff but not likely. I pushed all-in and he called with A-K. I won a $425 pot, thanks to playing it fast.
This is what I think is the biggest problem with slow playing – when you flop a big hand. you don't want to win a nice pot. You want to stack them off!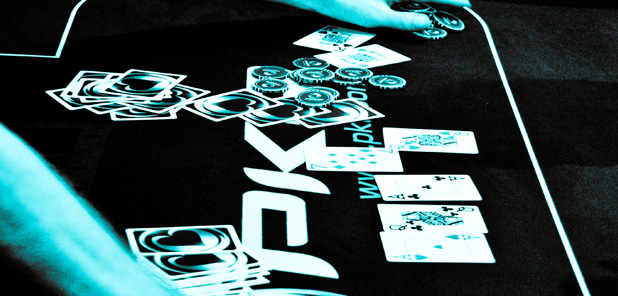 The worst mistake is slowplaying a hand that is far from the nuts, like top pair. If it's a very wet board like TsJs7 you don't want to give any free cards to your opponent. A flopped (non-nut) flush is of course strong, but at the same time extremely vulnerable so it's better to bet and raise than to slow-play. There will always be times when people suck out on you. Just make sure they have to pay for it.
So I should never slowplay?
When you play against good players you'll be too predictable if you always bet and raise good hands and then check and call with your weak holdings. Slowplaying could, from a meta game point of view, be a very good way to mix it up. Then you have some quite obvious situations where the slowplay will be profitable.
Which hands can I slowplay?
Monsters like a flopped full house, quads or the nut flush are often good to slowplay since your opponent has seldom hit anything at all on the flop.
Who can I slowplay?
Two very different kinds of player:
- The super-aggressive player who will keep barreling until he is played back at
- The super-nit who always folds to any bet if he doesn't hit
For example, when the board is very dry, like T62o and you have a set, there are few hands that will continue after a reraise on this board, mainly T-x and overpairs. Here you can check the flop and let them catch up. If the turn brings a K, he bets and you reraise here, not only could he have hit something but he now can also put you on a wider range, like a draw.
What kind of stacks should I slowplay against?
Big and small stacks are the best, while medium stacks are the worst. Slowplaying against the short stack is fine if one or two bets will be enough to get all the money in anyway.
The bottom line
My conclusion is that, although there are situations where the slowplay is the best play, a lot of players on 6-max or full-ring, especially beginners, overuse it and lose value without even noticing. This could in fact be one of the biggest leaks.
Vicky Coren said, "Don't get cocky, bet your good hands. Bet for value. Bet to protect them. Bet to see who's interested. Slowplaying is actually more dangerous than overplaying. Besides, you'd be amazed how often opponents refuse to believe your open bet, making huge sceptical raises when you're sitting there with a monster".
Fancy play might make you feel good but don't forget that the goal is not to just trick your opponents, but to get maximum value.