Sailing to be free – Interview I gave to Poker Magazin Austria
Here is the english translation of the interview I gave to Poker Magazin Austria where I talk about role models, free speech and of course poker.
I am sailing … to be free
Copyright: Christian lenoble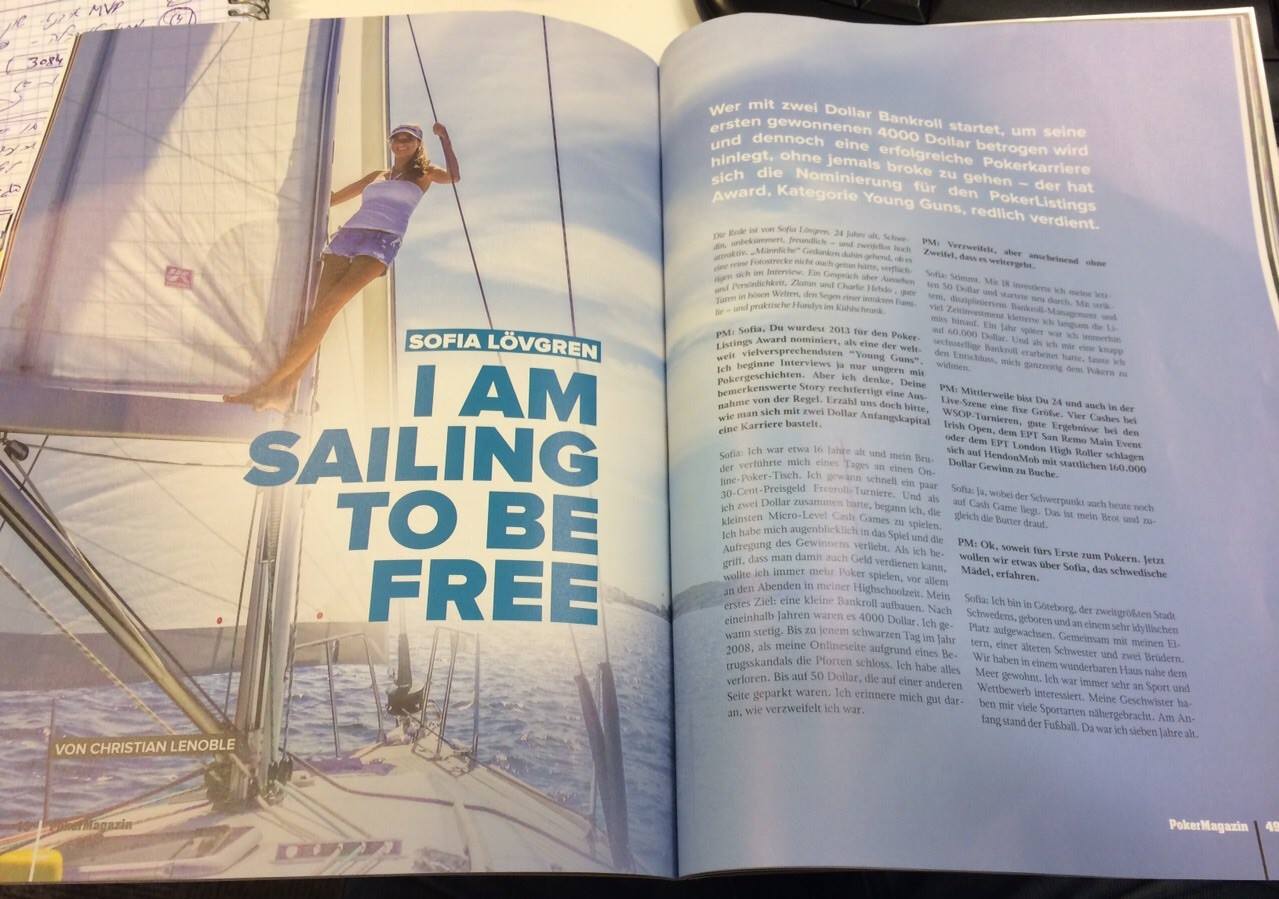 PM: If you start with a 2 dollar bankroll, lose your first 4000 dollars because of a cheating scandal and then still have a remarkable career as a poker player without getting broke a single time – you deserve the nomination for a young gun award.
We're talking about Sofia Lövgren, 24 years old Swedisch girl; airily, pleasant character – and without any doubt a very attractive person. A conversation about visual appearance and personality, Zlatan and Charlie, good deed and bad world, the importance of a happy family life – and smartphones in the fridge.
PM: Sofia, in 2013 you were nominated for the PokerListings Poker Awards as one of today's most promising "young guns". I' m not really a fan of beginning interviews with poker tales. But I think, considering your remarkable story, this is an exceptional case. Could you please tell us how it is possible to build up a professional poker career with an initial capital of 2 dollars.
Sofia: Well, one day my brother showed me online poker and after winning in a freeroll tournament I immediately fell in love with the excitement winning in poker. I won several 30-cent prizes in freeroll tournaments. When I had 2 dollars, I started to play the lowest micro-level cash games. When I found out there was money to win I wanted to play even more in the evenings during high school. After a year and a half, I had 4000 dollars in my bankroll. I was constantly winning. Then one black day in 2008, my poker site closed down after a cheating scandal, and I lost everything but 50 dollars that I had on another site. I remember clearly how frustrated I was.
PM: Devastated maybe, but apparently without any doubt that the adventure has to be continued.
Sofia: True somehow. When I turned 18, I invested my last 50 bucks and started all over again. I used strict bankroll management, put in a lot of hours, and after another year, I had 60.000 in my bankroll. I had close to a 6 digit $ bank roll before I decided playing poker full time. 
PM: In the meantime you are 24 years old and made yourself also a name in live tournaments. Your poker career includes six in-the-money finishes at the World Series of Poker as well as good results at the Irish Open, the European Poker Tour Sanremo Main Event or the EPT London High Roller. On Hendon Mob this means 160.000 Dollars in a short period of time.
Sofia: Yes, that sounds good. But I have to say that cash games online stay the most important factor in building my bankroll and cash game is still my bread and butter in poker.
PM: Enough for the moment about poker. Now we would be pleased to find out something about Sofia, the Swedish girl.
Sofia: I was born in Gothenburg, the second largest city in Sweden, and grew up in a very idyllic place with my parents, an older sister and two brothers. We lived in a wonderful house by the sea. I have always been very interested in sports and very competitive. My siblings brought me into many different sports. I started to play soccer with friends when I was seven and competed on a female team for 10 years. I also played golf, table tennis, participated as a middle-distance runner. I also have been skiing since I was very young thanks to our winter house in Geilo, Norway. And I am sailing, because this is a big interest of my whole family. I sailed Optimist dingy in a sailing club and I have spent my vacation sailing in the beautiful Swedish archipelago every summer.
PM: You said that you played soccer. Let me dig deeper. We can't talk about Sweden and football without mentioning Zlatan Ibrahimovic. Do you know what "zlataner" means? The word was originally coined on a popular satirical puppet show from French station Canal Plus and Sweden has added the verb to their national dictionary.
Sofia: Of course I've heard about the expression "Zlataner" or "Zlatanera" in Swedish. I understand it's a new word in Paris, where he plays now, and that it's similar to the word "crush" in the poker language. By the way, it's pretty funny, when I ask someone outside Sweden to come up with things they associate with Sweden. They always mention IKEA, blond girls and Zlatan …
PM: What else do you know about your unconventional sport hero?
Sofia: He is obviously the best Swedish soccer player   Last year Zlatan broke another record and became the first player in the history that scored more than 50 goals for the Swedish national soccer team. Zlatan grew up in Rosengård one of the most criminally associated parts of Sweden. He sometimes comes back to visit Rosengård which he never forgets, and has invested money to build a big soccer arena there. He has become a big role model for a lot of guys in Sweden. People like Zlatan are very important showing that we all can do great things whatever the background if you put in the energy and commitment.
PM: Putting in energy and commitment – that refers to you too. It doesn't need a difficult background obviously.
Sofia: In my case It's more about awareness. I realize that I've been fortunate growing up in a country like Sweden (a lot like Austria I believe). I'm very thankful for this and try to be a good person. That includes caring about my near and dear as well as for people that need help. I can't do a lot but I really try to do something good in every day life. I learnt from a Swedish professor, that when you do good things for other people you will be happier and get more energy yourself. It might sound a bit naive but I find it extremely powerful and I really believe all important changes start with what you do here and now. 
PM: "Here and now" people are doing also all sorts of very bad things, pretending they want to change the world. How do terrible happenings affect your faith in a good world, using for instance the example of the recent terroristic incident in Paris?
Sofia: I was shocked of course like most people. I think it's extremely important with free speech and admire people who fight and even die for it. I 'm afraid I'm not brave enough to do that myself. There are so many dark forces in the world and I think you have to find your own way to fight for what you believe in.
PM: Let's turn back to some calmer waters of life. You mentioned that sailing is a big family passion and that you still go on vacation with your parents. Unusual for a 24 years old woman, isn't it?
Sofia: My parents are very active and are always planning for new activities, projects, parties, dinners etc when they are not working. They usually sail 5-6 weeks every summer and last year they were on vacation in Spain, Domenican Republic and visited me in Malta twice. Pretty funny, both my parents are 55, but my dad made a health and fitness test a few days ago and got the results of a 30-35 year old. People have also asked me a few times if my mom is my sister… so I guess I have to say my parents are pretty youthful and fun to spend time with! We have always had a very close relation and all four siblings, parents as well as grandparents still love to meet and do things together. Even if I love now spending my time with my lovely Sicilian boyfriend Luca, travelling around the world, having party etc – I guess I have to admit that I am a real family girl.
PM: This can't keep you from living your family independent life.
Sofia: Sure. I moved to Malta last summer together with my boy friend after buying an apartment there. It's perfectly located in Europe with good flight connections to the rest of the world and the climate is awesome. We have spent a lot of time together planning, furnishing, and to build a new kitchen. I love this kind of projects. I have always been very interested in food. My grandfather was a chief with his own restaurant and my mother has spoilt us with excellent cooking my whole childhood. I love to cook as soon as I get time. It's extra fun since my Italian boyfriend appreciates food a lot. Lasagne and Swedish meatballs are my favorites. I also like to bake different kind of buns and cakes.
PM: Good that you always mention your boyfriend Luca. That maybe keeps some ardent worshiper at bay. In fact it's no secret: You are considered as one of the most beautiful women poker player. Does it flatter you or is it a pain in the neck to be sometimes reduced to physical appearance?
Sofia: I'm flattered by comments like this and have no problems with that. Good looking to me is having a pretty soul, being someone who is not egoistic and does care for other people. In that sense I want to look good.
PM: Good looking as a sign of personality. How would you describe your character in general?
Sofia: I could sometimes seem to be a little shy but I'm nearly never afraid! I have never been scared to take on new challenges, the other way around, I love it. My patience is also one of my biggest strengths as a person which is very useful playing poker, Other people would definitely say that I'm sometimes a little absent minded and tend to forget a lot of things. I once put my smartphone and searched through the whole apartment and found it three days later – in the fridge …
PM: Hm. And what else can be found in your fridge – more usually?
Sofia: I have recently started to buy food online which is extremely comfortable and convenient. I often have spares from the dinner which we like to eat for lunch the next day in the fridge. It could be home made Swedish meatballs with cream sauce, Sunday brisket beef stew, Bolognese or salmon. You will find a lot of juice, milk, cream, butter and 10 sorts of cheese. Different vegetables too and sometimes grapes as well as fresh meat and fish. And of course ice cream, which my boy friend buys loads of.
PM: Sweet home in Malta with your lovely boyfriend, idyllic family relationship, a lot of sport and travelling activities, success in poker – I can't really see what should be changed in your life. Do you have nevertheless some future plans spinning around in your head? Are there some projects you already attacked?
Sofia: I have always been interested in entrepreneurship and business. Already from very young years – when I was around 8-10 years old me and my little brother were selling ice cream on sunny days on the beach as well as golf balls on the golf course. We also baked buns and sold to neighbors. Every winter I was walking around knocking neighborhoods doors selling magazines and books as Christmas gifts. Later I studied economics in school and I'm now part time studying a six step Business and Management training and will get my diploma in 2015. 
PM: So poker is just an interim solution?
Sofia: As a poker player I'm my own boss and can decide how much and when I want to work. This is very similar to running my own business. I spend a lot of time playing poker but I also have some time to study. At the moment, it suits perfectly my needs and ambitions. The future? We'll see. Maybe I will start my own business one day. It would be standard in my family.
PM: Your own business that you maybe will finance through your poker earnings. By the way, the main theme of this POKER MAGAZIN is: "playing without money". Could playing without money excitement be in any interest for you?
Sofia: When I started out playing poker I fell in love with the game itself. Before I started to play poker for my living it was my favorite hobby. If there were no money involved in poker, I believe I would  still have played poker now and then because I love the game.  But I would probably have played like three hours a week in a fun home game in instead of five hours per day in front of the computer.
PM: Pretty sounds like a declaration of love to the game.
Sofia: Definitely.
PM: So may luck stay on your side. It looks good so far. And good looking is, as we know …
Sofia: … a matter of personality.