Poker in Slovenia – People's Poker Tour
I'm playing the People's Poker Tour, €1,650 Nova Gorica Main Event. There are some really good Italian players but also a lot of fish so it's a really good value in this tournament.
I arrived in Slovenia 2 days ago and after 10 hours sleep and one hour of swimming I was well prepared to play day 1A!
After a few hands I was already in love with my starting table. A guy had already limped utg and I felt this was going to be a good day. Italian limping and calling stations are like a dream to me.
I got AA on bb and an Italian gentleman with VPIP at least 75, raised 400 utg, a good Italian player, Andrea Dato called, mp called, btn called, sb called. I raised 1,850 and all of them called…….. /oops – shit- no… too small bet size I was thinking…
6 way we saw the flop KT5. sb checked, so did I and the Italian gentleman cbet 3K. Andrea Dato called, other guys folded and I called. Turn 5. Nice card! I checked and Italian gentleman bet again, this time 6K. Andrea Dato and I just called. River came an A – Boom!
At this point ofc I knew that I had the best hand.The Italian gentleman could have a hand like two pair or maybe just a pair of K. Andrea Dato could have a similar hand or TT for a full house. I checked as I wanted them to bluff but they both checked it down… sigh. The donkey showed K6o (lol) and Dato mucked his pair of K. I couldn't get any value with that river anyway. Still a great start and I was up to 50K.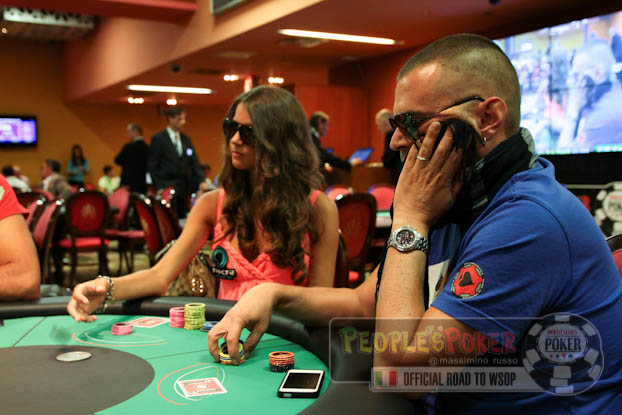 Then a little later I raised 400 with 88 utg, Andrea Dato called and two more players called. We saw a nice A86 rainbow flop. I c-bet 900 and Dato called. Turn T and I bet 1,8K and Dato made a 3-bet to 4,5K. At this point it felt like he had a double or a bluff. I just called. River 9 and I checked. He bet 6k and I called. He showed 67 for a runner, runner straight. Tilt. Down to 38K.
After this hand I lost momentum and couldn't win a pot for 2-3 hours. I lost a pot with AQ vs AK when the A hit the board in a preflop 3-bet pot. I also lost several small pots when I couldn't hit a board and they were calling down c-bets constantly, stations as they were. I dropped down well below starting stack to 17K.
As they just had said around me that I played so few hands the last hour and I still didn't get any nice hands I thought it was soon the right time to use my image and make a bluff.
I open raised on the button with TJss, sb with similar stack to mine 3-bet to 2,3K. I called. Flop KhQ6h and he c-bet 2,5K, I called. Turn Qh and he checked. I bet 4,5K, he tanked forever… at this point People Poker Tour were filming with cameras and commentating our table with a microphone. The guy next to me me didn't like to play against me at all and he folded to my semi bluff and showed a K….. I raised a couple of other pots and increased to 27K uncontested.
I changed table and this was the start of my come back. I saw AJss on bb and utg raised 1,3K, button spewy old donkey called, sb young tilted guy called, I called too. Flop Jd5d7 and young tilted guy checked, I checked too as I was sure one of the other guys would make a stab at the pot. Utg checked and spewy donkey bet 2,3K, tilted guy 3-bet to 5,2K. I went all in with my remaining 22K. The spewy donkey thought for 20 seconds and called off another 20K and the tilted guy tank folded 87o. I was up against QTdd…. I was happy the old guy was calling 2/3 of his stack with a flush draw. I hold and was back up to 55K!
After this I started to play more hands and chipped up in the end of the day to finish on 87K. Avg stack is 52K.
It was 78 players who started day 1a and 35 players made it to day 2. I'm 4th in the chip count.
It will be much more players Day 1B than the starting field of day 1A especially since It's a reentry day for the busted players who want to invest more.
Today we are having a day off and I will rest and visit the spa later. More updates on my twitter tomorrow when we play Day 2 here in Nova Gorica.