My WSOP 2015 schedule
Arrived in Vegas! After a week in Gothenburg celebrating Mothers Day, playing golf, online poker and chilling with family and friends I'm now more than ready for six weeks in Vegas and the World Series of Poker. Las Vegas is my absolute favourite place in the world to play poker in and I'm now here for the fifth consecutive summer. This year 888poker is the main sponsor for WSOP and will send a lot of online qualifiers for the Main Event and will also throw some crazy parties.
The last two years in Vegas we stayed at Palms Place which is a very popular hotel but we felt like trying something new so this year we are staying at the Vdara Hotel. We managed the 20 dollar trick and got an upgrade to a cool suit overlooking the Bellagio fountains.
Here is my WSOP 2015 Schedule: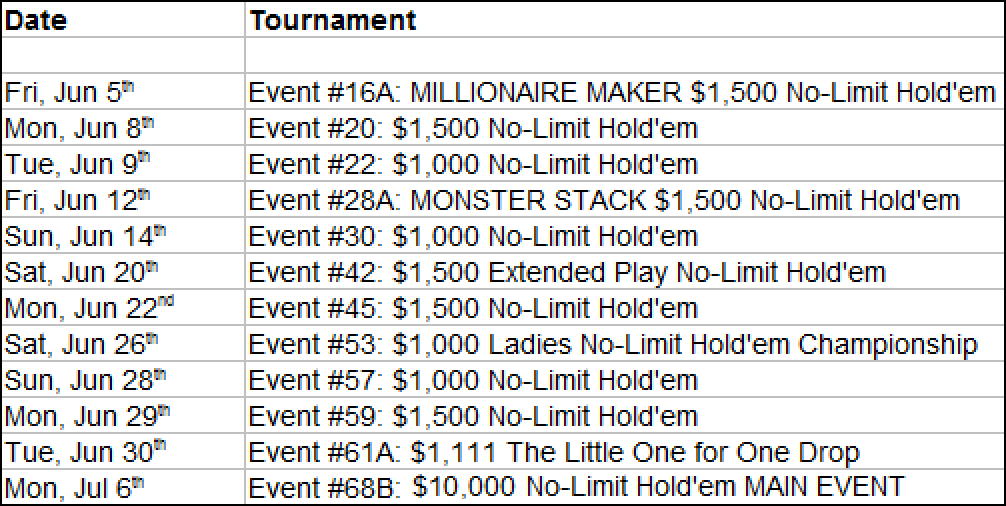 Some of these events overlap each other and I might skip/add a few more! I'll also grind a lot of cash games and pool parties obviously.
If you want to have some tips about playing in big field WSOP events you can read my Top 10 Tips Here!
Yesterday I busted the Millymaker quite early with KK vs AA allin preflop but playing my next event already today in event #20. You can follow my poker updates, and adventures here in Vegas the next six weeks if you like. Lot's of pics to come, hopefully some deep runs and maybe even a bracelet

My Twitter
My Official facebook
My Instagram
Good luck at the tables guys!! Here we go!!