My five top tips for beginners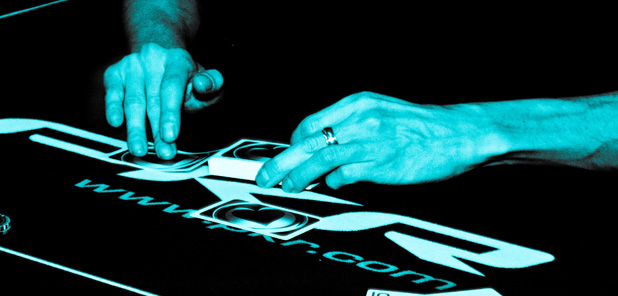 1. Bankroll management
The most important thing when you start playing with real money is bankroll management. Make sure you never play with more than 5% of your bankroll on the table. Always stick to this and don't let one very good (or very bad) day convince you to play a higher level to try to win money quicker. As you develop your game and win more money you will be able to play higher levels step by step.
2. Make as few mistakes as possible
Remember that poker is not only about getting value for your big hands or making great hero calls, but also minimising your mistakes. You can play perfect poker for hours, win a lot and then lose your whole stack in one hand with a risky bluff or a foolish call. There are many poker players who can play brilliantly at their highest level but are terrible at their lowest level. When playing with beginners you should play tight, almost never bluff and wait for the other players to make the mistakes.
3. Raise it up with premium hands
Beginners are often afraid that other players will fold if they raise too much with a set or two pair, so they slow-play their big hands and don't get paid as much as they should, or sometimes let their opponents draw to bigger hands. My advice is to be aggressive, raise and hope they have a hand or are calling anyway. Before the flop, always raise it up with A-A and K-K. It's often a disaster for a beginner to slow-play these hands.
4. Don't overplay top pair
A very common mistake is to overvalue your hand when you hit a pair. At the lower levels, where many players want to play every pot, the top pair will sometimes be beaten by an overpair or a set. Be ready to fold with A-J on a J-T-6 flop in a multi-way pot if you get a lot of resistance or scary cards show up on the river.
5. Learn to handle the bad beats
Bad beats are a natural part of poker, so you must find a way to handle them. If you are very unlucky and get really frustrated don't continue to play! Even if you don't think it will affect you it will still be very difficult to play your A-game, so leave the tables and take a break!