Las Vegas WSOP 2012
Last year in Las Vegas, everything was new to me. There were so many things to do and experience. Even though I tried to play my best poker then, it was much easier to concentrate this year, knowing exactly what to expect.
I decided to stay three or four weeks, and registered for nine events, some of which overlapped, so I was prepared (hoping) to cancel one or two.
My first goal was to go deep and cash early in a NLHE tournament, then go for a really big cash in another. I had some possibilities in the two first events but in my third – event #46 NLHE $2,500 – I made my first ever WSOP cash with $9,000 for a 64th place. It was a relief but I really felt I deserved it after running bad in live tournaments for some time. The starting field was quite impressive. Among the players I was up against were Phil Ivey, Antonio Esfandiari, Vanessa Selbst, Pius Heinz, Justin Bonomo, JP Kelly and Chris Moorman. After this little breakthrough, I went on to cash in the next two events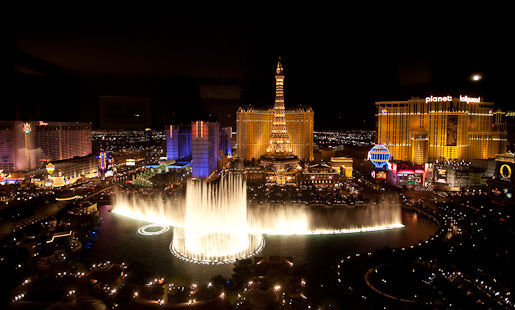 Reports from the Events with some hands that I played:
Event #43: 675/2770

Early in the tournament I lost half my stack with KK vs QT , after a Q on the flop……. and a T on the river…shit! I was still alive and after a while managed to double up with 66 vs 69 on a 269 flop. Back to starting stack 4,5K. After that I had momentum and spinned up to 7,7K. Later I kept my stack around 7-8K without hitting any big hands.
In the level before the dinner break Neil Channing sat down at my table but we didn't chat a lot… The blinds were around 100/200 and after losing a couple of pots I was down to 22 bb's. Totally card dry but I kept stealing without showdown for a while but no big pots. I ran out of Iphone batteries after the dinner so unfortunately I couldn't communicate.
The blinds increased and started to be critical to my stack. The last three levels I shipped/folded but never got the doubling up I needed.
In the end I was all in with A2 on sb vs. K7 btn and KT bb. One time tripling up?……but no! Out 675/2770.
Event # 44: 420/2949.
I finished 420 of 2949 after a long day and with only two levels left, just a flip from Itm.
Event # 46: 64/1607 Cashed
Decided to play patiently and TAG in the beginning of the tournament. Just before the dinner break I lost a big chunk of my stack on a flip but managed to bluff back up to 6K stack.
Right after the dinner break with blinds 100/200 I picked up 99 utg and raised 500, Mp called and so did bb. The flop came 46c9c , sb checked, I checked, Mp bet 1K and sb flatted. I made it 2,5k and committed myself. They both went all in with 4c5c and KcJc vs my 999 . No more clubs and I held…yay!
Up to 18K – Lost some pots and back down to 13k
Later with the blinds increasing and extremely card dry for 2-3 levels I had a frustrating time. Ran into some good hands when I tried some moves. Some of the players at my table were very spewy and I kept waiting for opportunities. I played very patiently and tried to find good spots like shipping TJdd, K7dd against weak players and button raises. I kept my stack around 20 bb's without any bigger hands or showdowns but still had very little room for playing post flop.
Then the last level…finally rewarded! AK… KK.. JJ.. Booom
Blinds 100/500/1000
Utg raised 2,5k, Mp called and I shipped 25K stack. Utg tanked and both folded – up to 32K.
One of the last hands of the day I raised 2,3k in Mp with AdKd . The button flatted, bb shipped, I reshoved and held against AhJh !
Up to 53K and a very good end of a long day.
The starting field was quite impressive. Among the players I was up against today were Phil Ivey, Antony Esfandieri, Vanessa Selbst, Marvin Rettenmaier, Pius Heinz, Martin Staczko, Justin Bonomo, JP Kelly, Chris Moorman, Chino Reem, Galen Hall, Freddy Deeb, Vanessa Rousso, and so on forever….
Of the 1.607 players who started this morning we were down to 233 (171 ITM) .A min.cash is worth USD 5k and the first price USD 700K so tomorrow could be an interesting day!
Day 2:
I started the day with an average stack, 53k with 233 players remaining and 177 ITM. I had Vanessa Selbst three seats to my left, just as in PCA earlier this year when she coolered me with TTT vs AA. Also french player Ilan Boujenah to my right who made four cashes in this year's WSOP so far, extremely talkative guy.
There were many short stacks in the tournament but not at my starting table! Selbst was big stack and playing almost every pot. I won nearly all pots I opened at this table, played tight-aggressive. I changed table with about the same stack as when I started the day. I lost a flip to a short stack and was a little under avg, 25bb's, on the bubble. There were billions of shortys around so I decided to sit tight for the moment and accelerate post bubble.
The bubble burst and I had 20bb's at my disposal allowing only pre flop play. I was looking for opportunities to squeeze pre flop and find an all in double up for a more playable stack. Players were dropping like flies and I lost a flip with AsKs vs 99 , down to a somewhat desperate 9bb's. Then I doubled back up though, in this hand:
"A player in middle position raised it up to 7,000 and action folded around to Sofia Lovgren in the cut-off who moved all in for 24,000. The rest of the table folded and the middle position player made the call.
Lovgren: 77
Opponent: A9
The flop came 6dQdTh and Lovgren looked like she might pull this one through, but a 9 on the turn brought a reversal of places with Lovgren now with the disadvantage.
The 8 on the river though completed a straight for Lovgren, and she was awarded the pot."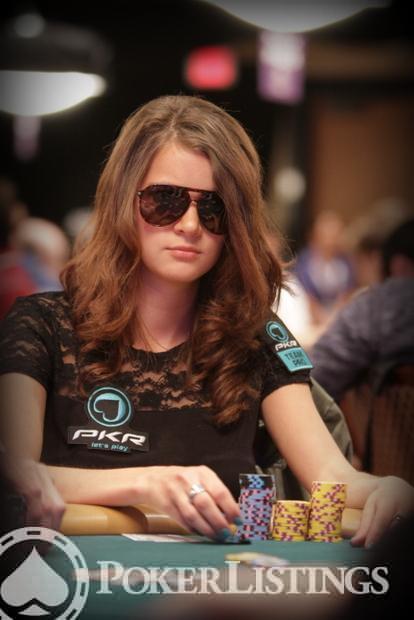 Shortly after, 7-handed I raised with AJ and a shortstack with 8bb's shoved his 25K, I called and was up against AQ … tilt. No miracle J and down to 12bb's.
I had 77 hold against A9 once more(!) and was up at 60K by dinner break. 75/1607 players left and the next level was 500/2500/5000. I came back and four players sat out for the first hand, including sb and bb. I had only one player behind, 5h2c suddenly seemed to have potential. I raised 11K and tilt… the other guy flatted. Flop 6c8c9c . Check, check, turn , check, check, river Qc , yes flush hold! /sweet /ops.
I was determined to speed up and gamble as soon as possible, aiming for the top money rather than climbing a few more positions before the bust.
78K, 16bb's. One minute later the remaining players came to the table and I raised 12,5K with AQ in ep and the guy who mucked QJ before, now 3-bet. I felt I was in trouble but wasn't going anywhere with AQ and 16bb's. I hoped to double up against 99 – JJ for a chance to go really deep, but no…. out vs AK.
Hated to leave the table, but that's poker! This was my third event in this year's WSOP and my first WSOP cash, for $9K.
At this point I had been in Vegas for three days and played poker 24/7 so was about time to relax by the pool, Strawberry Daiquiries and nights out the next few days. Played some profitable live CG in The Venetian with Luca one evening too.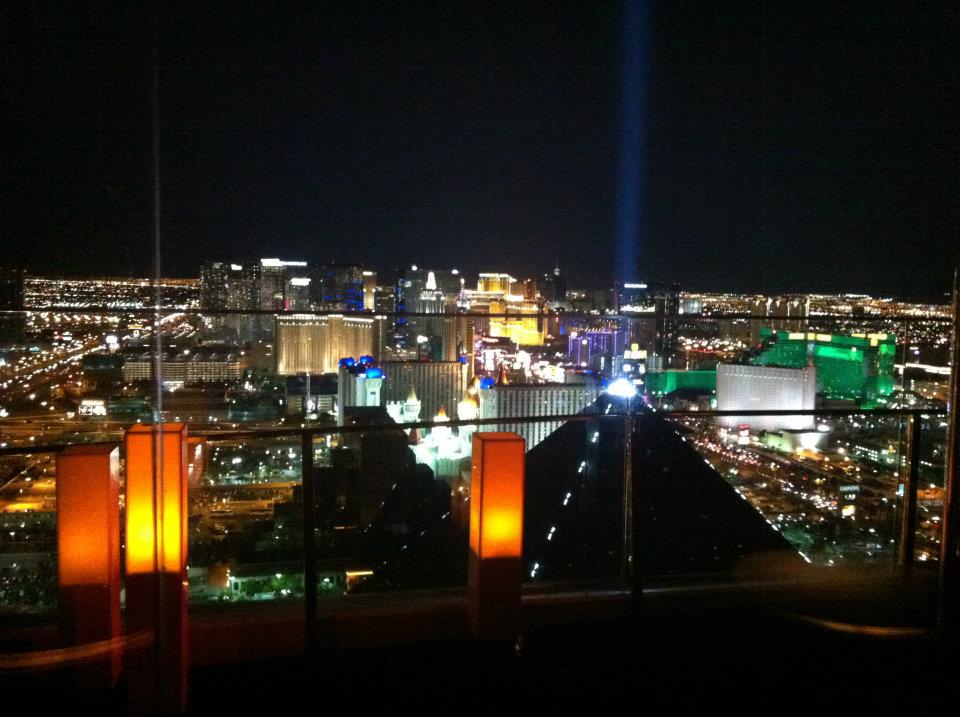 Another long but different day at the WSOP tables. Different because this event was so much softer. After a while I adjusted my ordinary TAG game totally because of the passive play from most of the ladies and bullied the tables with raises and 3-bets the whole day.
Some hands I played:
My starting table was perfect with six gray haired 50+ ladies. Despite two early coolers with QQ vs AA and AK vs KK, which should have been the end of this tourney, they let me keep a little stack of 1,7K. Thank you very much ladies!
The last hand before the first break I raised 150 preflop with AQhh and sb big stack flat called. Qd7d5 flop and she check called my 250 c-bet. Turn 5d and again she check called 525 bet. River 4… she checked. I put her on weak top pair and took some time, acted weak and bet 1,6k all in. She tank called and mucked!
With an 11K stack and antes/blinds 25/100/200 a bitchy little Chinese girl who kept telling everyone the rules all the time raised 550 in mp. I flat called with AT in and the flop came KdTdT…nice! She c-bet 450 and I reraised to 1,2k. She 4-bet shoved 10k with her AK. Snap, booom AT hold obviously Up to 22K.
Changed to another table which also looked incredibly good and the old ladies immediately gave me respect for my stack. Only found one good player, also with a big stack. I 3-bet her early to tell her to not mess with my blinds.
Later with the increasing blinds and ante I decided to turn up the speed and started to open 40-50% of my hands. At this point I was chip leader at the table. I increased my stack without showdown and they were folding like dominos. Just like that I was up to 45K without any hands whatsoever.
With the antes/blinds 100/400/800 we came closer to the money. Nobody wanted to challenge me so I kept raising and 3-bet the medium stacks. One 12K stack open shoved preflop, I had 99 and called. I was up against AK, held and went up to around 60K.
In the end I finished in 6th position of the 117 remaining (939 entries) when I bagged my 64 k chips.
When I returned for day 2 we were already ITM and first price was a cool $170.000 together with a bracelet and the world champions title.
Day 2
This was one of these days when you're not supposed to play poker. I started the day in 6th place (936 entries) with a strong feeling I would be able to make the final table and put myself in a position to win it all in the end. 64K was 2,5 times the average so I had some chips to play around with. Instead I struggled losing most of the pots I entered.
One of the first hands of the day I lost with top pair to a runner, runner straight where she hit the gut shot on the river and I was immediately down to 50K.
Then I open pre flop with KQ, KJs, AT, TJs and four times I got all ins from 25K-30K stacks and couldn't call. Suddenly I was down to 40K and off to a really bad start. Later the short stacks went all in every second hand but I didn't get any cards to call with. A couple of girls also made very strange bet sizing (4-5bb raises pf) so frustrating not to be able to win their chips.
Blinds increased and finally started to be very critical to my stack. I picked up JJ, open shoved all in 32K and got called by AK of a shorty with 24K and KQ3A5 board… down to 8K. After that I was All In twice uncontested and up to 14K when I found a double up to 30K with A5 vs 33. The very next hand shoving with TT onsb the button called me with Kings and bye bye!
Finished 42nd and cashed $3.640
Spent the Saturday evening in the top floor of Rio with an amazing view. Bought a mega drink. 1 liter and very strange strong boiling one.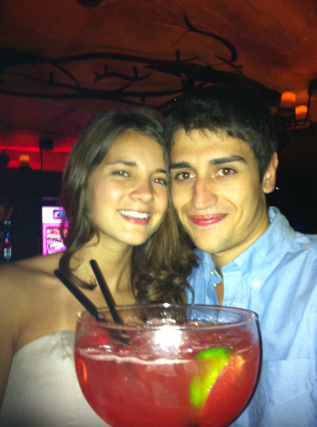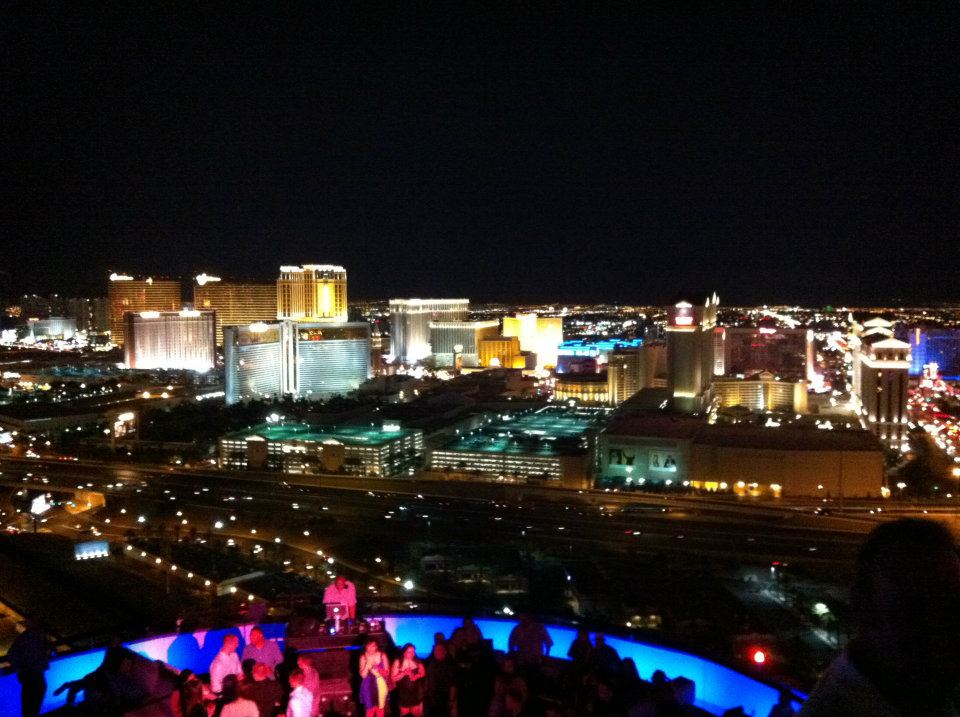 Event #54 started with 3221 players and we were down to 265 after day 1! Started day 2 with 41K stack and avg. was 36K.

Finished in 24th place (3321 entries) in Event #54 for $14,300
We were 360 full ring tables in the huge Rio Casino from the start. The first levels it was a little roller coaster ride for me. My 3K starting stack was early down to 1,8k after losing with JJ to QJ. Rebuilt to 3k with some bluffs and then doubled up with AK vs 66 all in preflop. Soon after this I lost a 6K flip with AKss vs QQ and back down to 3,5K. Then picked up AA and raised in lp when the button shipped 44. Great timing and up to a 7K stack! Some of the players at my table started to be short stacked and I took out a player with AQ vs A6 preflop. 10K Then I lost a 9K flip with 88 vs AK preflop, river A… down to 7K again…
After this the crucial hand came!
With ante/blinds 50/200/400, a loose guy in mp raised 1K, sb called and I squeezed all in with 44 on the button. Sb reshoved and the open raiser went all in…. /oops
AhKh vs AcJc .. and 2784T ! Yes!! Tripled up to double avg 21K! I had a playable stack and I started to open raise and win more pots without sd. Established a pretty loose image at my table.
One hand I won was with AsJs in lp. I open raised 1,6K and bb called. Flop A7Q and I c-bet 2,2K. He flat called, turn J and he checked. He check called 3,1K and river came 4 . He checked again, I pretended to look weak and bet 5,6K. He tank called with a weak kicker! Up to 36K
When day 1 finished we were ITM and I sat with a 40K stack and 265/3321 players left!
Day 2:
Had forgotten my sunglasses but convinced myself that this would bring me luck!
I won a couple of pots early without sd and up to 65K. One with TT and I also 3-bet stole a couple of hands preflop with air vs two weak players.
Later I lost a pot with AdQd vs AsJs on J9433 board. I c-bet the flop, check check turn, river he bet very small 6,6k into 19K pot, many missed draws out and had pot odds to call. 45K again.
Blinds increased quickly and I made a hero fold when I had 50K. We were down to 80 players left blinds 500/1000/2000, I raised 4,5K in early position with TT and tight old gentleman 3-bet to 10,5K… I hated to fold a hand like that with 25bb's. The way he raised and looked I had a strong feeling he probably had a big pp this time. I followed my instinct and folded… he showed QQ …. phew
With 80/3321 players left. I was down to half avg stack.
I changed table and shortly after got 77 on sb. I had 40K stack and blinds just increased to 500/1500/3000.
Co. Open raised, button 3-bet and I shipped 36k on sb. He said he was way behind but committed and called. 77 held vs Kd5d and up to 85k! I continued my little rush stealing and winning some other pots ore and after a while I was up to 140K!
I won big flip with 99 vs shorty AT and I was up to 280K and top three in the chip count!
From that point my luck turned. I lost most of the pots I played, one big with Js9s, hitting two pair on the turn, other rivered me.
The players went out like flies and we were down to 27 players and re-draw on three tables. After some more unlucky pots I was a little short with 16bb's and could only play preflop. In the end I was all in with Ad7d after a loose guy raised on cut off and I shipped on sb. He called with TT and I lost the 30bb pot for 24th place and $14,300.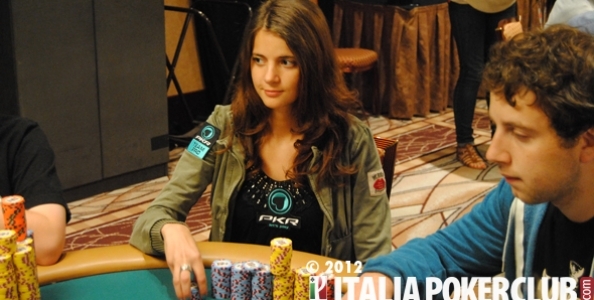 This was of course a special tournament since PKR had more than 40 players at the tables! I was hoping for my fourth consecutive cash but even though I early had a good stack I still busted Day 1. The main reason was that I overplayed a straight draw and lost most of my chips.
Some hands:
Early with blinds 25/50 one guy limped in ep, mp raised and we both called. The flop came QT7 mp bet 250, I called and so did ep. Turn Q and they both checked, I bet 250 and first guy folded. The other guy 3-bet to 800, I shipped 1300 with my AQ and won vs KK, up to 4,5k.
With 75/100 blinds I won some small pots and then took out a shorty's 14 bb shove with 44. I re shoved with my 88 and was up to 8K. I continued to win some smaller pots uncontested and had a nice stack of 9,5K when the crucial big hit to my tournament came! I raised 450 with QJ on cut off and bb called. Flop Tc9c3, he checked and I c-bet 750, he check raised to 2K with 5K behind. I 4 bet to 4,7K and he shipped. I hated it but called committed. He got his flush… I wish I would have controlled this pot a little better with my big stack since we were both so deep. At the same time I understood that winning the pot would have put me in the chip lead in the whole tournament which was very tempting!
I was left with 2K and open raised all in on the button with J8hh, sb found KK and the board was Ah7h66h6… out with my flush against his full house.
Went out for a nice dinner at Restaurant 'Nine' with Luca at Palms place. 40oz Rib eye with nice wine! Without any doubt the best meat I ever eaten. It was worth another 2 visits there!

Had some days to recharge until Main Event, July 7th!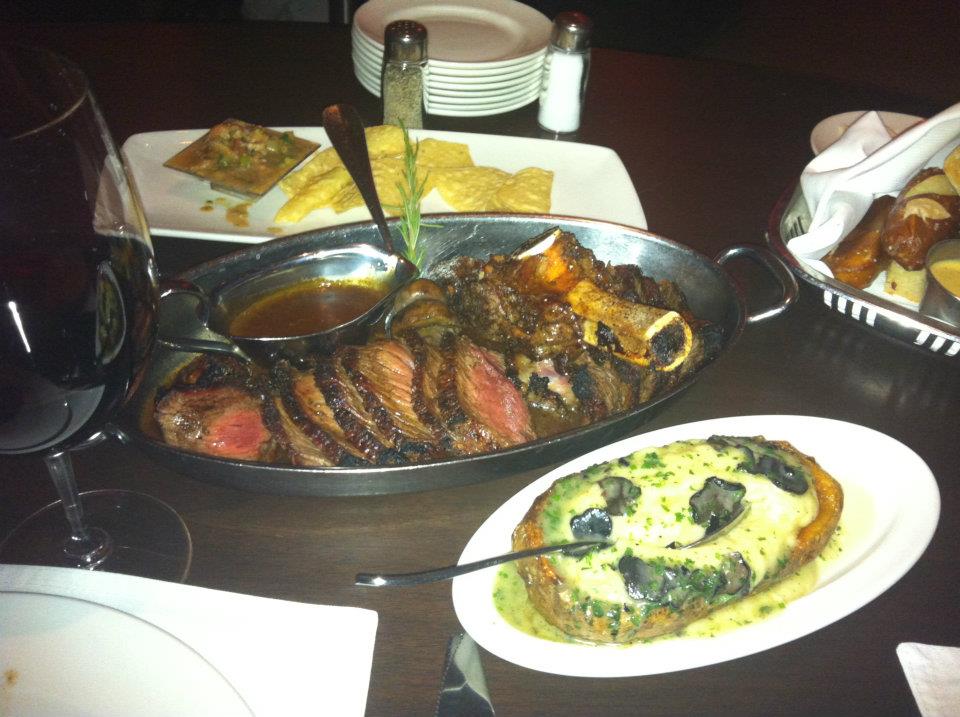 WSOP Main Event for the first time! Nice to get the opportunity to play the most prestigious poker tournament in the world. With three WSOP cashes I felt ready to play my best poker ever and go for another one, only this time a real big cash! Maybe not entirely likely but still, with my A-game and a little luck, definitely possible
Day 1A
A starting field with1066 players which was more than day 1A last year. Day 1B and 1C will have more entries and hopefully sum up to a field exceeding 6000 players. I immediately loved my starting table. Two or three good players and the other quite passive and after a while I realized they played with scared money. I increased my 30K starting stack to 40K at this table.
With Blinds 150/300 a guy in early position raised 700, I called with AQss, mp flatted and old spewy gentleman 3-bet to 3,3K. I was the only one calling. The flop came Q77 , I checked he bet 4,3K (with 7K behind), I shipped and he folded!
Another pot, Utg raised 650, a young guy in mp flatted and I 3-bet to 2600 with QQ. Both called and we saw the flop 777! They checked to me and I bet out 4,8K. Open raiser folded and the young guy called. Turn 2. Again he checked and I quickly counted the pot which was 17,5K. I decided to bet 8,8K, he thought for a while and called. River 3. I shipped all in 26K in a 35K pot and he tanked forever. It was the last hand before the dinner break and he would love to chip up so he finally called. Yes!! Up to 88K.
He didn't say what he had but probably nines or tens.
Picked up AK utg and raised 750, and the same old guy in lp 3-bet to 3150. Pretty big 3-bet. I took some time and asked about his chips and 4-bet to 6450. He called quickly. 934 flop and I went all in, he folded with 7,5K behind. Yes!
Up to 95K and a couple of hands later I had more than 100K.
With antes/Blinds 50/200/400 I looked down on 99 on sb. Spewy old man open raised 950 in Mp, I 3-bet to 3,1K, a few seconds later he was all in with 12K and I called for the 65bb pot.
He showed 88…great!…but the board came A578J… sigh…and down to 88K again.
Later I was moved to the feature table together with some big names like Pius Heinz, Main Event 2011 Champion. I played there for around 1,5h and increased my stack 10K.
Bagged my 96,2K chips after another long day. To be continued with Day 2 on Tuesday July 10th.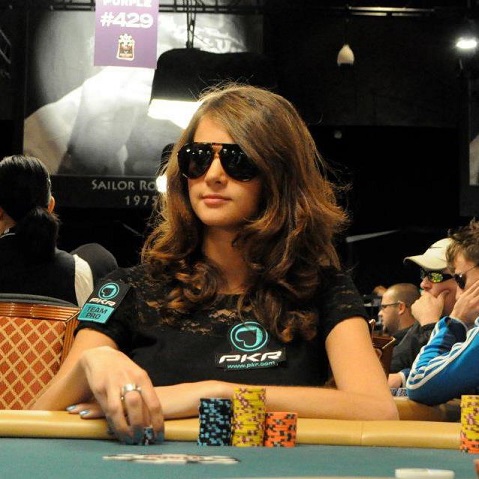 Will let my tweets summarize my day 2 of Main Event:
"104k into the first break"
"Lost some pots, 76k at the dinner break. Ate fish and chips for dinner, wish more at the table now!"
"Running bad 56k"
"Lost 2 big pots, 35k sigh"
"Couldnt win a pot today. Can't believe im still alive…"
"Not my best day obviously – but still alive and back on Thursday! Don't be surprised if Day 3 is a great day for me!"
Day 3 of Main Event
Started very short with 28K (18bb's). Had decided to find a double up as quick as possible.
Here is a short description of my swingy journey:
First level 200/600/1200 I kept my stack around 30K uncontested pre flop without seeing a flop.
Blinds 200/800/1600
With a 33K stack I got KQ on the button, a loose guy open raised 3,5K in mp. I decided to push and he tank called with AJ. K65Q2 , Yes!! 45bb pot and up to 70K.
A couple of 3-b steals pre flop and up to 85K which. All of a sudden everything looked much better!
Blinds 300/1000/2000
I picked up JJ in ep and raised to 4,2K. Everyone folded to bb who called. Flop 2d3d6. He checked, I bet out 5,8K and he came over the top to 12,5K. I 4-bet him all in and he snapped 45K and turned over 3c4c for the nuts. /sigh! Back all the way down to 26K….
Soon after that I doubled up with 88 vs AQ and was up to 70K again.
I saw KK on sb and one guy raised in ep, a short stack shipped 20K… sweet. I re shoved all in and was up against QT . AQT58 … but nope down to 50K…
Blinds 300/1200/2400
Utg raised 6,2K and loose guy in mp flatted, I shipped all in 40K (17bb's) with AdQd… Utg called with QQ and no miracle for me so out as 1160/6598 in my first WSOP Main Event.
I felt very disappointed, especially after my good run day 1. Even if I was short in the beginning of day 3 I all the time believed in a big comeback. I had a very strong feeling I would go deep also in the ME as a perfect finish of the WSOP.
A big congrats though to Luke (Beanman) and James (Mogwa1) for their great run in ME and also to my team mate Marc (Waswini) who made a deep run and cashed in the Main Event for the second time in three years!
Overall I'm quite happy with my poker at the Series. I played seven events and outlasted 76%, 86%, 96%, 96%, 99%, 40% and 82% of the players in huge fields. I made three cashes for a total of $26,800 and all in all, it's definitely an improvement on last year. I've learned a lot and feel comfortable at the tables against the best. Having said, that I also know I can develop my game further. The next step is to combine my patience and consistency with some looser and more unpredictable play to go for the final tables and the big money.
Besides playing poker, I also had a great time in Vegas together with my boyfriend, PKR friends, staff and qualifiers. Dinner in the Stratosphere's 'Top of the World' restaurant was something special. The evening in Mix Lounge was great and the pool party was outstanding! If you missed it this year, make sure to be there next year if you have the chance. PKR knows how to throw a party. Last but not least, I learned to shuffle my chips!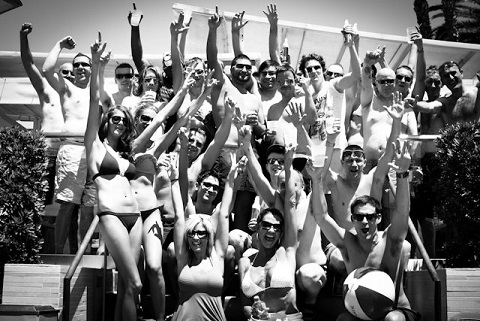 Here is a summary of my WSOP Results: