GUKPT Grand Final London
Summary and some hands I played
Day 1
Quite an interesting roller coaster day. I grinded my way up to top ten with 60K, then lost most of my chips with the nutflush draw+ over cards all in on the flop against a pair for 70K pot and suddenly down to only half starting stack 13K. Kept calm and after doubling up with A6h vs A5 I had a playable 32k stack again.
Blinds 100/500/1000. I kept open raising in position, this time Otb 2,5k with Qh3h and sb called /oops. Flop 5h6h9 /sweet, he checked and I checked behind. Turn came 4 he checked again and I bet out 3,5k he flat called and river was Q. He check called my value bet of 4,5K and I was up to 44K.
Shortly after that I took out a short stack with 13k, AJ vs 99 and up to 57k. The very next hand I looked down on AA utg, hadn't even stacked my chips yet! I raised and the button reraised to 5,5k. I decided to minraise him to 9K, he quickly 5-bet me big and was committed all in. My AA dominated his AK and I was up to 92K. Before i stacked my chips I decided to keep the momentum and make a 4-bet bluff preflop with rags. I finished Day 1 in 10th place with a 97.7K stack after close to 12 hours of poker.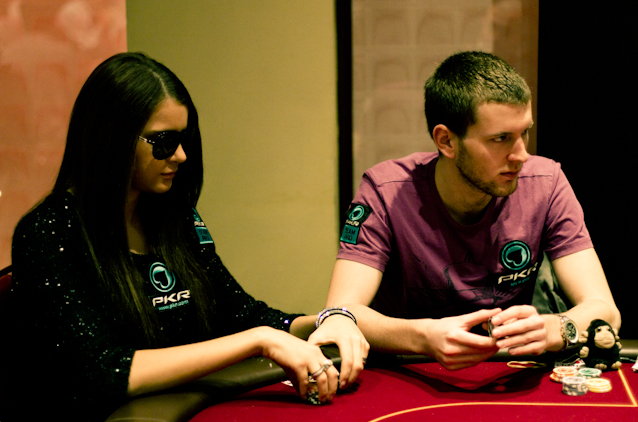 Day 2
I started out actively day 2 and won some of the first pots of the day without sd from 97K up to 114K. Praz Bansi and Ram Vaswani were at my starting table. Lost with 88 to JJ on J4c5c flop to a guy with 26K. I was the aggressor preflop and I checked to him in a 9K pot on the flop he bet 8k with 16K behind. I put him all in and was crushed. Bad, but the good thing was that they saw my bet with the second pair so I might get paid for it later.
I had a card dead level ad didn't manage to steal. Dropped from 80k to 68K. Shortly after that I had TJd in a 5-way pot on 894 flop. Didn't hit and was down to 54K. I climbed back up to 85K and after Liv Boree busted left I was the last girl standing when there were 60 players left.
The last hand of my tournament was 88 with 28bb 7 handed. We were 36 players left and an very active big stack raised on the button, I 3-bet on sb and he 4-bet me all in. I called and was up against AK for a 60bb pot (avg. stack). Board came J673……yessss… and river…. K and out in 36th place. Rivered so close to the money, just like in Campione 1 week earlier.
Overall with this tough starting field I think I played a decent poker again and feel I'm getting very close to a really deep run soon. Finished the weekend in London with a nice dinner with Luca at Gordon Ramseys, York and Albany Restaurant, delicious!!
Now back home in Göteborg and grind online until next live tournament, PKR's WPT Dublin in January!
Most important finally : Let's cheer for Jake Cody, awesome result in his first tourney as a team Pro and some great PR for PKR!!!