Estrella Poker Tour Grand Final ME – In the Money
I started Day 2 with 167K which was good for 17th place of the 550 remaining players (1,798)
I kick started and continued to build my stack winning every pot I played, often without showdown. In one hand a young guy with a similar big stack raised 3,5K and I decided to 3-bet on the button to 8,2K with A8dd. He called and the flop came 964o. He checked and I c-bet 8,5K. He now 3-bet to 19K which was interesting considering the rainbow flop. With a set I thought he would probably just call. I felt that I could make him fold a middle pair and I put in a 4-bet to 40K. He quickly folded 88. Later I had 67ss on bb. A guy raised 5K in mp and I called. I liked the monster flop 3s48s. I checked and so did he. Turn As game me the flush. I checked again and he bet out 5K. I 3bet to 12K and very quickly he was all in with his remaining 45K. I hold vs ATs and stacked even more chips. I was up to 320K (avg 135) just before the bubble. At that point I think I was top ten in the tournament and I had a good feeling that I could continue running over the table.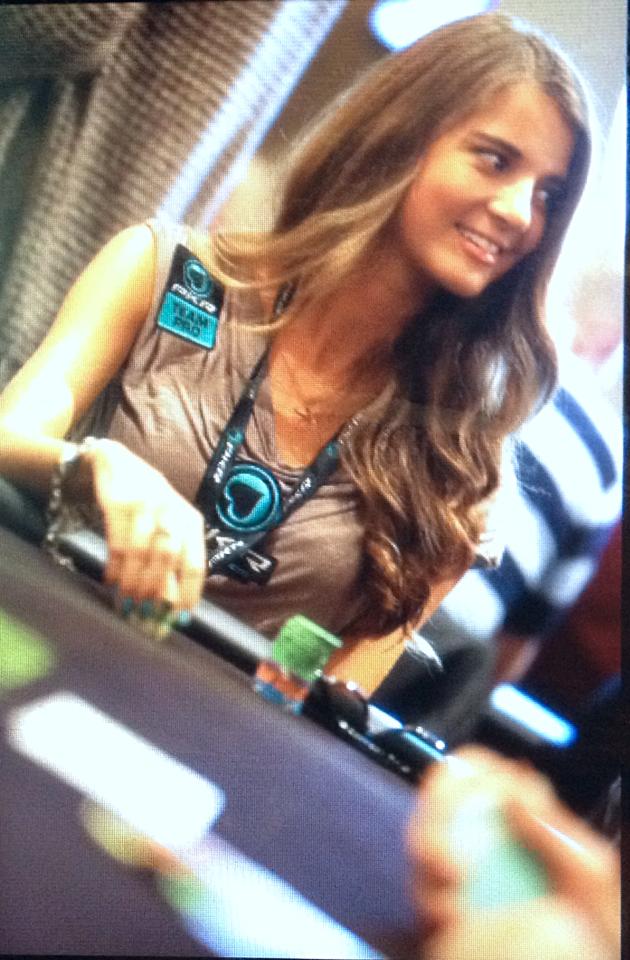 BUT then my luck turned completely. I lost a couple of pots where two bluffs didn't work out, I couldn't hit any flops and then eventually was below avg for the first time…We were in the money but I couldn't feel happy since I was planning to boost my big stack even further on the bubble. Instead the bad run continued. From 200 players left down to 100 players left I struggled with a tricky stack of around 20 bb's. then I finally won a pot with AK>AJ and up to a playable 35 bb – 260K stack. That was for one minute before I lost with AJ<AK to the same guy and down to 18 bb again… Later 1h later AK again, this time on the button. Early position raised 8K and a guy in mp called 8K. I 3-bet to 22K, the open raiser folded and mp called. The flop came 368 rainbow and he donk bet 26K. A thought it was a very suspicious bet. I felt that he would seldom donk bet on this dry board with any good hand and I floated. Turn came a 6 and he checked. I went all in and he snap folded. I then doubled up once again, with AK of course and was back to avg stack with 345K. I lost a 100k pot when I shoved my 106s on sb on a shorty on the bb and was called down with his A7. When we were 83 players left I played my last hand of this tournament. A very tight old man raised in middle position, I looked down on JJ on the button and went all in. He looked frustrated and thought for 10 seconds. "Yess, he didn't snap, now call me please" I had time to think, knowing a double up would put me in a top 15 position and the he called with….. AA!! Everybody looked surprised and he said "I don't like to go all in"… No help and I had to leave the table in 83rd place for €3,250.
I had bigger plans going into Day 2 but still nice to cash and Spain was the 6th country for me to cash in. I feel pretty happy with the way I played and it was a really good warm up for EPT ME, Day 1B starting today!