EPT San Remo day 4 – 30th place for €19K
Out in 30th place (797) as best female and Swedish player for €19K
I started day 4 with 431 000 stack (avg 362.000), which was good for 20th place of the 66 remaining players. A Swedish Magazine/site Poker.se, had a special coverage of all the 27 Swedish players, several of them world class, so it was a little prestigious to be the last standing. Today I was the only Swede and the only girl to follow in the Main Event!
After the table draw for day 4 and I was seated at the same table as my boyfriend. Apart from that the table looked softer compared to the table the day before with a couple of short stacks, Unfortunately two other mid stacks quickly busted the shorties with AK and TT at my tables and I didn't get a share of it, nor did Luca.
Three pots in a row – Blinds 1000/4000/8000
I raised with QQ but no action and everybody folded. Then I raised 17K with 66 and a loose player flatted on the button. flop Q87, I checked and he checked behind. Turn K, I bet 22K and he folded.
The very next hand I raised again, now 17K with AK UTG and Mid stack Micah Raskin flat called. Flop Q87, I c-bet 22K and he called again. Turn 8 , I checked and he bet out 45K which was a quite big bet… thought about it and came to the conclusion that he didn't have a full house, maybe KQ, AQ or 99. I decided to make big bluff and 3 bet to 100K. He thought for a long time and folded AQ, asking, Kings or Aces? After this I was up to 530K without a showdown and had just the kind of start I was hoping for.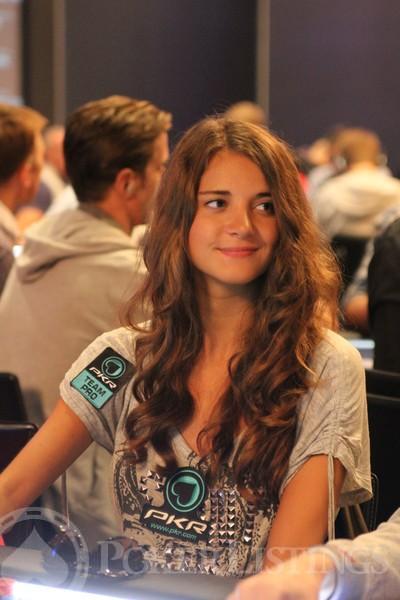 Not long after that I was moved from Lucas table and arrived 6 handed. My first hand was TJdd and I decided to raise before I had even stacked my chips to act strong. I raised 22K and BB called. The flop came 747 and he check-called my 28K c-bet. Turn A and he checked again. It felt like a good card to barrel and I bet out 52K. Once again he flatted… shit…maybe he had the ace. He checked the 8 on the river and after thinking for a while I checked it down. He won with A6o…
After this little mistake I was down to 400K and lost momentum. Before I could benefit image wise from my bluff I was moved again to a new table which Poker.se called "the Table of Death". I was squeezed between Timoshenko to my right and Haxton to my left. They both played loose and fought to be the table captain. The two chip leaders Forsmo and Tompkins were also at this table with huge stacks so I had to tighten up again and try to find a hand. I didn't… Usually I don't have a big problem with this kind of players because they tend to try to run over me and I often trap them a couple of times and win few but big pots.
Blinds 2000/6000/12000
At this point we were 45 players left and I was down to 350K and 30BB's. Players went out one after one and I didn't get any hands or decent spots at all so it was a very frustrating time. I stayed calm and kept believing in a rush sooner or later. Every pot was 32K in just blinds and antes so It was starting to get costly. Best hand I saw at this table was A8 , but when big stack raised UTG I folded. I was down to just 265K after a while with 38 players left. I stole blinds once with 9Tss but that was all. At this point I had to look for a double up and couldn't raise with too bad hands. Other players were showing AK, TT and AJ constantly and I couldn't believe didn't see one single of them for hours myself. Several shorties doubled up and at the dinner break we were 35 left and I only had 210K chips left…
Blinds 2000/8000/16000
Coming back after the dinner break, 7-handed, blinds increased and with only 14bb's I knew it was gambling time! First hand AT. LP raised 34K and I shipped. He folded and showed 88 … "wow big fold" I was thinking. I was stealing uncontested up to 350K without any premium hands. Just before the new blinds, the button open raised 34K and I squeezed all in vs. a very tight player with 56ss with my 300K and he tank folded. All the time I understood that one double up was probably good enough to get back and be one of the 24 who should play day 5.
Blinds 3000/10000/20000
Two rounds of folding and every pre flop pot was at this point 51K. I picked up A9dd on big blind, 7 handed and the button raised 55K.. I shipped 300K and he snapped with TT . No Ace and I was out in 30th place …Nooooooo…!
It was a pretty tough day but I still felt that I played decent poker throughout the tournament. When you are in the middle of it you only want to win and it's easy to forget that you are up against 797 of the best poker players in the world like Negreanu, Mercier, etc and you outlasted 96% of them. Of course it's not that bad, when you go home with €19.000 in price money, but still I feel disappointed after my run day 4 and so close to the very big money. With some distance I probably feel this was a good step in the right direction towards a big live win. I learnt several things this tournament, studying some of the other players and will keep analyzing hands, study my game and keep improving.
I still believe luck is the place where preparation meets the opportunity.