EPT San Remo Day 3 – In the money
I was seated at one of the toughest tables in the casino with David Vamplew, Timoshenko, Ana Marquez, the best poker player in Hungary and a couple of other big stacks. But, no fear, I had a good stack, 223 800 chips.
Also today I had a pretty good start. I felt mentally prepared, arrived in good time and before some of the other guys had even stacked their chips I managed to steal a couple of pots with air. I had decided to be the aggressor whenever I entered a pot. I continued with some 3 bets pre flop vs the smaller stacks and most of them went through.
Then I suddenly was dealt KK on sb. A shorty that I 3 bet twice before without show down raised 6,5K in MP and I 3 bet to 14,2K. He smiled a little to himself, like "here she comes again". He flatted and I checked the flop Jd5d7d. He went all in and I snapped. He turned over AdT…with the nut flush draw… I held…phew and up to 315K.
After this I was totally card dry for a long time, missed all flops and also ran into a couple of real hands when I tried to steal. We were getting closer to the money and players busted one by one. I have to admit that the big stacks really put pressure on me with good aggressive poker. So my attempts to grow my stack on the bubble didn't work as I planned and when the bubble burst I was down to 250K.
Blinds 500/2500/5000
I raised 11,500 UTG with AJhh and BB big stack flat called. The flop came JcT7c, he checked and I bet 18K. He called and we saw 6c on the turn. He check-called my 32,5K bet and river Ac…four clubs…sigh. He donk bet 34K, I counted the pot to 160K chips and studied him for a long while. He looked uncomfortable and I got the feeling he didn't want me to continue. I came to the conclusion that If he had the flush it wasn't a strong one. So I bluffed all in with 180K and he snap folded. Up to 350K!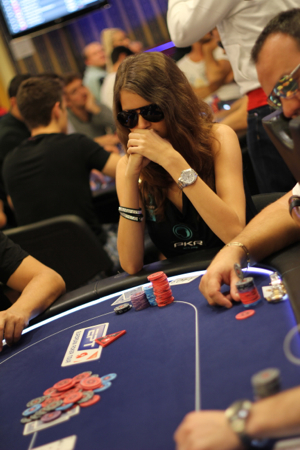 Short after this I saw JJ on SB and Timoshenko raised to 10,5K UTG. I 3 bet to 24,5K on SB and Ana Marquez shipped all in on BB… Timoshenko folded and I called her 100K. She had AKs and I held…yay up to 450K!
After this I was struggling a little again and the big stack to my left were floating everything. I didn't hit any boards and dropped some when they were calling me down with third pair…What's the matter with these guys – No gentlemen at the poker tables…
Blinds 500/3000/6000
I stayed cool and waited for a good spot which finally came. I got J8o on BB and everyone folded to big stack on SB who just called 6K. I raised to 14K and he called again. The flop 79dTd was a nice one! He checked, I bet out 15K with my straight and got a call. Turn 5d, he checked again, I continued with a 28K bet and of course the station called again. He checked quickly when the river 4c came. I wasn't very afraid of the flush and bet out 68K for value. He tank called and mucked. Sweet – up to 480K and back in business.
Lost two pots after that but finished the day on 431K (AVG 360K) when we come back for day 4. Now I was 20th of 67 (797) remaining players. My boyfriend Luca was still in with 290K and we were were at the same table in the new table draw… hmm…interesting. Already cashed €12K but going for the final table and then 1st price €800K.