EPT San Remo day 2 – momentum
Just a half hour into the first level of day 2 our old PKR friend entered my table. Bad luck for him because I immediately busted him with Aces vs his Queens. He tanked after my 5bet but couldn't get away. He asked me to take good care of his chips which I promised him. Suddenly I had a 104k stack.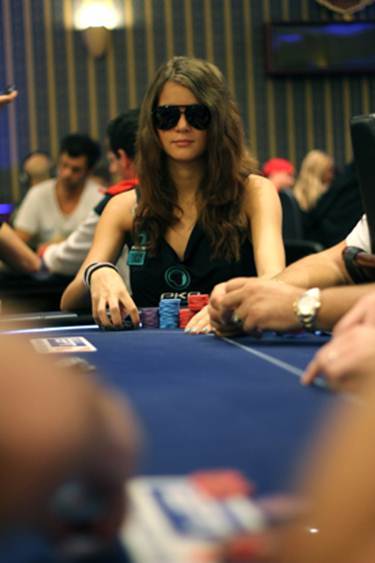 Blinds 100/500/1000
Very loose player open raised 2,2K on CO. The button guy with very high VPIP flat called and SB called. I decided to 3-bet to 8,5K. The open raiser called and so did SB. …. and I c bet 13,4K. I got one call from the loose player on CO, Turn came J and I checked. He bet out 22,7K. I took some time, counted my chips (around 80k), stared at him and after I while I went all in. He snap folded and looked very disappointed. What I had I will keep as a secret : )
With my new stack I felt I bossed the table, kept raising, 3 betting, 4 betting, hitting flops and had a little rush up to 207k.
Blinds 200/800/1600
Then came a turning point when I lost a 120k pot. After a couple of 4 bets uncontested a guy was tilted and went crazy with AJ. I picked up AKss on co and open raised 3,6K. BB re raised to 10K, I 4 bet to 22,5K and after few seconds he was all in with 58K. I called thinking it was a flip. He turned over AJ… Hated the J on the flop and Good bye to the juicy pot. Instead of chipping up to 265K and top 5 I slipped down to 145K.
From that point I struggled and couldn't get anything going for hours and slowly went down to 100K.
Blinds 300/1200/2400
Later it all changed again. I suddenly looked down on KK and decided to slow play. I got paid on three streets and chipped up to 184K.
It's interesting how important it is with momentum because after that I started to win again. It was the last level of the day and I won some more pots with 3bets pre flop. In another interesting hand a big stack bluffy player raised to 5,1K and I flat called on sb with 66. HU to see the nice flop Ad67d. I checked and he checked behind. Turn J Had a feeling he was weak and checked. He bet out 7,2K and I 3-bet him to 20,5K. Then he min 4bet to 34,7k… I tried to look like I had a tough decision and called. An A on the river… I checked and he gave up with 57o … Disappointing river card since it scared him from firing a final big bet on the river.
I finished day 2 with a healthy stack of 223K. (AVG 160K)
At this point we were 162 (797)players remaining (120 ITM) and I was in 31'st place when we start day 3. My starting table include WPT Champion Timoshenko, Team Pokerstars Pro Ana Marquez and EPT Champion David Vamplew. Tough table but I had a feeling that this could be very interesting….