EPT London High Roller, £10,300 – In 15th place going into day 2
When I came to the registration and wanted my seat in the High Roller they laughed at me. One guy told me friendly that I didn't look young, I looked super young. Being 23 now, I guess I should take this as a compliment.
I had a starting table with High Roller, Philip Gruissem and legend Barry Greenstein and a mega rich Businessman. The first to levels of the day my stack was going up and down between 45-55K. I lost a pot with KK and several small pp's set mining without hitting.
Early double up with nut flush
With blinds 50/200/400 I raised 900 with AJcc, rich businessman called and bb called. The flop was the amazing 964ccc, I c-bet 1400 and the rich businessman called.
T on the turn, I bet 2,7k and he 3-bet to 8k… loved it!
Two options now – 4-bet or just call. He made the exact same move against me earlier in a hand where I folded.
Probably a lower flush, 78 or a semi bluff. I didn't have a set in his range as he would most likely 3-bet me on the flop then. I decided to just call and to check raise all in on the river for maximum value.
The river was a 2d and I checked. He bet 10,4K and I pushed all in my last 34K. He tank called and swore.
Up to 95K and off to a great start! I built my stack up to 120K after some uncontested 3-bets preflop.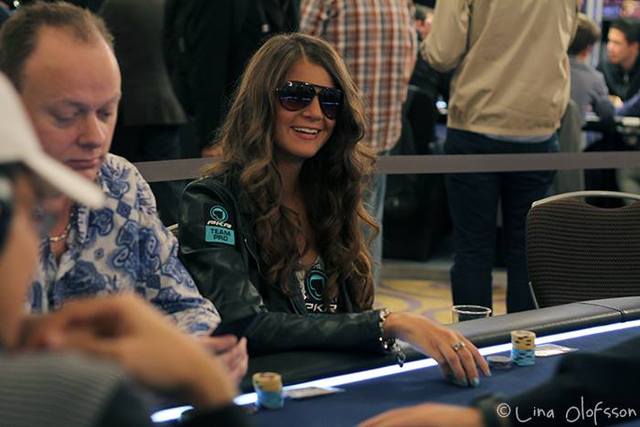 Daniel Negreanu bought into the tournament late and sat down on my right side. He immediately promised me to double me up. Nice! But not so nice, rather ugly when he busted the very first hand with QQ and on top of that got slow rolled. He made his first re-entry and changed table so I have to wait to get the promised double up and some advice regarding chip and run in golf.

My two pair lost to runner, runner
Then a young guy raised 2,1K, button called and I called for value with K3dd- to see a beautiful flop K37 rainbow. I checked and the young guy c-bet 3,4K, everyone else folded and I just called. At this point he had only 20K behind. Turn J. I decided to check raise him all in but he checked behind. River was an A. I was hoping he hit the Ace and checked again. He bet 10,2K and I raised 20K for value. Not so nice to see his AJ for a runner, runner better 2-pair… /nice hand dude Down to 90K.
Then I couldn't win a pot for some time and dropped down to 60K. I 3-bet bluffed on the button but sb cold 4-bet and I had nothing to defend with.
AA> QQ double up
With 20 mins left of the day I picked up AA. Blinds 800/1600 and I raised 3,5K in mp. Sb, Swedish guy Joel "Odonkor" Nordkvist 3-bet to 8,4K, I 4-bet and threw in 17K. He insta went all in and Boom! doubled vs his QQ in the end of the day.
Another nice pot to finish the day
With 3 hands left of the day TT on bb. Philip Gruissem, very spewy at that time opened 3,5K in ep, button called and sb young guy 3-bet to 10,4K. I had seen this guy 3-bet quite a lot before.. I had a tight image the last hour and I decided to 4-bet. He had 80k stack and I didn't expect him go all in with anything less than top 4-5 hands in one of the last hands of the day. I raised to 20k and he tank called. Flop 656 and I c-bet 16k, he folded AK up.
I bagged 150k, and we are 74/148 players left going into day 2. Avg. stack being 100K. We were only 3 girls who entered this tournament, Vicky Coren and Carla Sabini.
Follow my updates on twitter!