EPT Barcelona ME €5,300
After a relaxing day and a nice dinner with some Swedish friends I was ready for EPT Barcelona ME. This is a really big tourney with hundreds of world class poker players along with sport celebrities like Boris Becker and soccer player Ronaldo. More than 1200 registered so far and since it's allowed to enter directly to day 2 there could be an EPT record.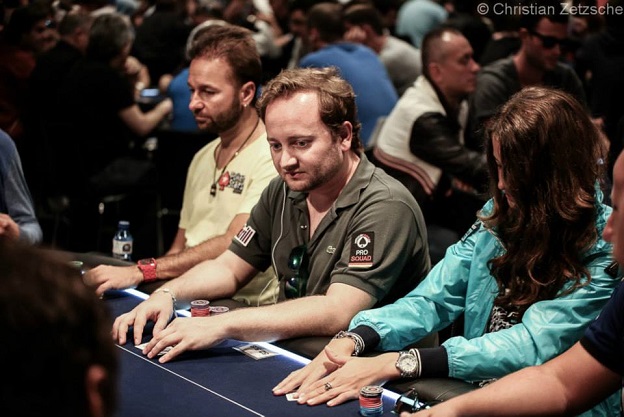 Daniel Negreanu was at my starting table. He was talking all the time and entertaining the table with chatting, singing and dancing. I listened to his favorite playlists and gave him some tips about good music. Flashlights and cameras highlighted our table all day and a big crowd was circling around us. Unfortunately he didn't seem to win a hand. He kept smiling and talking, but his stack decreased like melting snow after losing coolers and missing flops.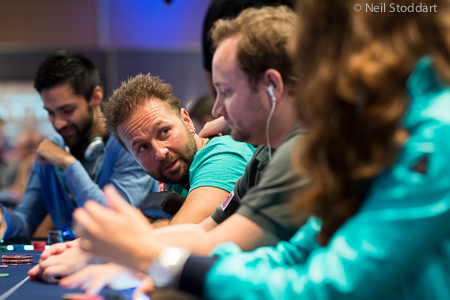 One of the first hands of the day I lost 4K with AA. I raised 350 in EP and one Danish guy called in mp and nice German Team Pro, Maurio called. Flop 4sTs9, I c-bet 700 and German Team Pro called.
Turn came 5s and he check raised to 2,5K. I didn't like it at all but I called and the river blanked. He bet 4K and I let it go.
Then I won many smaller pots without show down. I had respect at the table. They folded a lot to my bets so I open raised a wide range and soon was back to starting stack.
Daniel raised 450 on the button, German Team Pro called and so did I on bb with 77. The flop was Q3c6c and he c-bet 750. The German guy folded and I called. Turn came 8c and we both checked. River K and I bet out 1,2K. Daniel folded his Q and said I had it. He continued to sing and dance… .
Here!
About 3 levels later my stack had fluctuated between 26k-35K.
75/250/500
Utg young guy raised 1,1K. I 3-bet with AKhh to 3,075. He called and then checked the flop Ks52s. I bet 2,8K and he called. Turn Qs and he bet out 3,9K. I really didn't like the turn. My first thought when he donk bet was that he hit something and now was scared of the spades. Pretty small bet compared to the pot though and I called. River was 7s and he checked. At this point I was sure he didn't have a good flush but had a feeling I had to bet to win the pot. I bet 10,6K. He tanked forever and finally called with his two pairKQcc and no spade /grrr. A bit surprising and a major hit to my stack! I was now down to 10K, a third of the starting stack.
Just after that I was moved to a new table with a nice young Swedish Pro Olof Haglund next to me and also the nice PS pro Fatima.
I decided to keep a positive attitude, tighten up, be patient and make a comeback before end of the day. As long as you have chips you can always win. Then suddenly I picked up QQ that held vs AK and I was up to 22K. I then grinded my stack to 28K without showdown and looked down on AK again. Olof went all in with his 10K and I went all in too with my28K. Then bb went all in over the top covering me too. He had QQ and Olof AK… "one time for the Swedes" Olof said . and boom K on the board and up to a much better looking stack of 38K.
Finished the day after stealing a few more pots and bagged 47K which I think is about avg. going into Day 2.
My starting table: