Christmas Poker Week Main Event, December 2010
This was my last live tourney of the year and my second big tournament in my hometown Gothenburg at
Casino Cosmopol. Last time, the Spring Poker Week Main Event in April, I was a bit disappointed with my fourth place being the chip leader at some point with only five players left. I still remember the feeling when I lost the flip with my AK for a monster lead. Thinking about it now, a half year later, I realize I played my best poker ever in this tournament and made a decent cash, so I was hoping for a nice finish of the poker year 2010. But as you can read here it was not to be this time!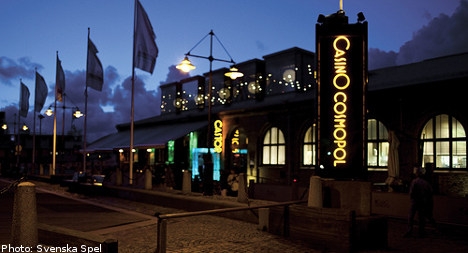 Day 1
A lot of top players flew in from Stockholm and there were also some great local players. I had a good start but was never able to build my stack from that. Instead I struggled for the remaining 9 hours. Here are some of the hands I played:
50/100
I loved the seating on the starting table with my fav seat -4 with starting stacks of 30K. On this table there was this guy Brane Stupar, who had god mode. It was pretty sick that he couldn't lose a pot. He suck out on river hand after hand which I actually liked because he tilted the other players on my table… I was never involved in a pot with him which I was relieved about. Felt all the time that with a good hit I could get very well paid.
I got 33 utg+1 and limped, everyone folded to the blinds who checked. Flop was Qc3h7c , Nice!! Sb and bb checked to me and I bet pot 300. Sb reraised to 700, I 4-bet directly to 2100 and he snap called. Turn 5s and he checked… He was a bit tilted from hands before and I bet pot 4K. He called me.. since he was bb I put him on a 2-pair here. River came 6d and he checked, not the best river but I didn't believe he had a gut shot on the flop so I bet out 5,5K for value. He called and showed Qs3s … 23,5K pot, (230 bb's) nice! 28K -> 39K

25/150/300
I had a pretty tight image on the table and knew the other guys were aware of it so I took some advantage of it. A guy limped in early position and mid-pos raised to 900, late position flat-called. I had 67s on sb and I made it 3900. Everyone folded to late pos who called. Flop came 369 and a c-bet of 5,5K was enough to take down the 9K pot. 46K
50/200/400
AQo on bb and utg raised 1200. Sb called and so did I. Flop was 624 and sb checked, I bet out 1500 and got 2 callers /oops… turn came Q and sb checked so did I on bb and utg. River J and sb bet out 3,5k… I flat called and so did the guy after me, he showed 66 for top-set. Shit… down to 36K
50/200/400
Now I was moved to William Thorson's table. He is a really nice guy and very good player. I got AKh in sb. William raised 1100 in middle position. The button reraised to 3K.. I took some time and 4-bet to 8,2K. They both folded pretty quickly. Back to 40K.
50/300/600
I picked up TT in ep. I raised 1,6K. Thorson on sb reraised to 3,6K and I called. Flop came 6c8h9c . He checked…. I bet out 4,8K and he reraised to 10,5K… gaah, dream flop but now.. I chat to him a bit and he seemed very confident I had 40bb's behind so was all in or fold decision. I was close to pushing the all in button but gave him some respect here after tanking and when I folded I was happy when he showed me KK….phew…. Talking to him later he said he would have played my hand the same way. Down to 30K….
75/400/800
Had some OK starting hands at this stage, like and 66 , 77 which I raised preflop but had to fold a few times to big 3-bets preflop. Also lost some pots with AJo and KQo , I didn't hit flops and my c-bets got called down. It was pretty frustrating, especially sitting out of pos of some big stacks.
Welll, I only had 23K but was still in the tournament. If japete, my PKR mate could be runner up last week and win $165K with only 2 bb's with 40 players left, I should feel very strong with my stack and 26 player left!!
Day 2

Out in the 3rd hand!
Everyone folded to the button who raised 2,8K. I was sure he could do that with a very wide range. He was a midstack and raised for the second hand in a row. I thought he would fold most of the time and let me steal the 5,5K so I pushed my 20K from SB with Ac8c I decided this morning that whatever happened I was not going to be downblinded. He thought for some seconds and then called with AsQs. /sigh No help so I had to leave my seat only 6 min after we started to play……26th place is maybe decent but
NOT what I hoped for coming to Casino Cosmopol….
2010 has still been a great year so I really shouldn't complain. I'll come back to Casino Cosmopol and play the Spring Poker Week Main Event already in April 2011, watch out!