Building a stack – experience from my first WSOPE
I played the WSOPE for the first time in September 2010 against tough opponents like Phil Ivey, Tom Dwan, Phil Hellmuth, Barry Greenstein, Alan Cunningham and Devilfish but was second chip leader of 682 players going into day 2 and in the end finished in the money. I was involved in a lot of pots the first day and here I give three examples of hands I played representing different ways of winning pots.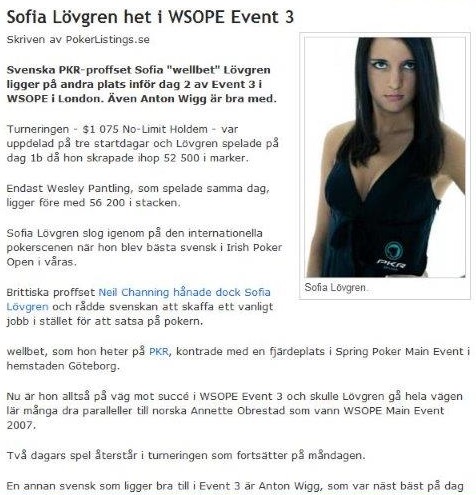 Bluffing on the river instead of splitting the pot
Early in the tournament I played tight and so did the most famous players at my table Barry Greenstein and Huck Seed. Establishing my image I was patiently waiting for good hands and also good spots to steal. In one of the hands Barry Greenstein raised to 600 in early position, the sb called and so did I with ATh on the bb. The blinds were 100/200.The flop came AsJd4d, the sb checked, I checked and Barry checked behind. Turn came 5d and the small blind bet 1600. I thought for a while and just called, Barry folded. River was 4 and sb checked. There I got the feeling he probably also had an ace so we would split the pot. In these cases you could often take down the pot with the right bet. I decided to make a big bet, 3,6K. He grabbed his chips and tanked but folded after a while. We had the same hand but I took down a nice 5K pot.
Playing marginal starting hands
Playing TAG I have to mix it up so I open the pot with a hand out of my usual range, at least every 8th time in a full ring game. Here is one hand where I got paid with a marginal starting hand. One limper, I raised with 5,7d on cut off and the limper called. Flop was perfect for me; 46Q. He checked called my continuation bet and then an 8 for a straight came on the turn! He checked again and I bet out 60%. Now he reraised me and I 4-bet. Quite quickly he went all in, I snapped and he showed set 6′s. The table was surprised when i turned over my small hole cards with the nuts.
Bullying the midstacks preflop
Later in the day when the blinds were higher and antes had kicked in it was more important to steal preflop. I was the big stack of the table and the other players showed quite some respect for me. They didn't want to be involved in a big pot with me without a premium hand. I took advantage of this and made several 3-bets preflop. I liked my seating on the table. The guys raising my blinds where middle stacks which was just perfect for me. Remember that in this stage of the tournament it's best to attack the middle stacks. You don't want to make a bluff vs a short stack because he is ready to ship his stack in any second. Against the bigger stacks you always risk to be involved in a pot for your tournament life. Since the middle stacks started to raise my blinds I decided to strike back. In one hand the cut off raised to 2000 so I raised it up to 5400 with T9s on the sb, Blinds 50/400/800. He folded pretty quickly and I won 3700. I made this move several times with marginal hands like 8,6 d and JT o and increased my stack significantly. Then later when I had AK and 3-bet again he didn't believe me and called. Awesome to see K53 on the flop. Not only did I increase my stack without hands but I also got paid when I hit a good hand. When I have the nice position of being the big stack I try to be very attentive to the table and find the weak players who give up as soon as they get resistance.