Bluffing Jesus
Originally written for PKR's Raise your game, by Sofia Lövgren
I played 6 handed on a very loose table where I had a tight image and was 200 bb deep. I win most of my money on these kind of tables by trapping and letting other players bluff into my strong hands. Quite often though, I get the opportunity to use my image and pull off a big bluff.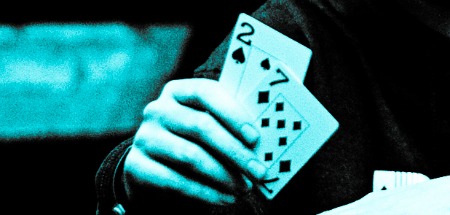 I open raised $20 on cut off with J8ss.
An old gentleman on the button, named Jesus 3-bet to $65.
We were both were deep stacked, I saw potential in my hand and decided to call. The flop came Qs97 which gave me a gut shot and a backdoor flush draw.
I checked, Jesus bet $70 and I called. Turn was 6s so now I also had the flush draw.
He now bet out $150.
I thought a little and asked how many bills he had. I had around $800 behind and he was sitting with a similar stack. He scratched his thin hair and looked very uncomfortable.
I decided to pull off a semi bluff with my draws and min raised to $300. He thought for a while and squirmed uncomfortably in his chair. I felt that he was close to a fold but he called. At this point I put him on a big pair. Maybe KK/AA or AQ.
The river was an 8 so the board was now Q9768. It felt like a good card for me to continue the bluff. I checked my cards, thought for a while and then went all in.
Within three seconds Jesus growned loudly then showed and folded his Aces.
I won a nice $877 pot with a pair of eights.
Jesus looked frustrated about folding, but said "nice hand, nice hand". The other guys at the table were convinced I had a set. I didn't show my hand, I almost never do, but was more convinced than ever that image is everything.