A week in my life – Monday
I quite often get questions about my life as a poker player. It's somewhat different from most people, so thought I'd share with you what a normal week in my life is like nowadays. Last year, I travelled a lot with crazy things happening all the time, but when I'm at home it's totally different, which you'll understand if you read this diary. Be my guest…
Monday
A lot of people hate Mondays, to wake up early on a dark, rainy morning and go back to work with five long days ahead of them. Since school I've never really had this feeling. The lifestyle of a poker professional can be extremely comfortable as long as the poker runs well. Of course, it can also be very stressful when the variance sets against you but lately I've been running good, so this Monday I woke up with a good feeling.
As usual I played the whole Sunday night, tournaments and cash games online. I played seven hours straight from 8pm to 3am since there are always many tables running on Sundays and a larger percentage of 'recreational players' (= fish), so much more profitable. Not last night though.
I started off the day with a nice breakfast in the sun on the balcony with tea, sandwich, egg and fresh watermelon. Then I spent some time on the laptop, surfing around for two hours, skyped and checked some blogs etc.
Later I went out for a round of golf with my brother Fredrik, only nine holes but that was more than enough this early in the year. In Sweden most of the golf courses are still closed after this cold winter. Since it was one of my first golf rounds of the year, my expectations weren't that high. No birdies and no eagles, but I managed to make some pars and avoid tilt in the bunkers. We had dinner at the golf course. The good thing with golf restaurants is that they have demanding customers so the food is usually very good.
I admit my swing looks a little bit shaky on the video, so feel free to give me some advice! Then back home again and after a shower and dinner with my family, I was more than ready for poker. I studied my Hold'em Manager from last week's poker and analysed the stats to see if I had improved the three leakages I'm working on right now. One of them is not c-betting the turn as often as I should. The other two I'll keep to myself! I've done OK, some improvement but still need to think about these things.
Then it was time to enter the tables for a long night of poker on PKR. While playing poker I have a habit of checking the news online, email, MSN chat, Facebook and watch TV so sometimes it's easy to lose concentration when something exciting happens, especially when I play nine tables.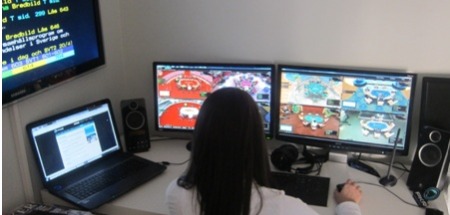 I final tabled 'Welllbet's Home Game' again. I've been running quite well in my Home Game; I've won it twice, four third places and in total 16 final tables. Since the structure is quick, it's necessary to be active when the blinds increase. Many players will be short stacked around the bubble so it's a great advantage to be the bigger stack here and apply pressure.
Except for this tournament, I focused on cash games today and multi tabled six to eight tables. There were only two NL200 tables open, like it has been quite often lately, but I played all the NL100 tables as well. Later we started up one full ring NL1K table for the first time in a long while. Nice to see some really good players like japete and WongaMan playing full ring. I was lucky with A-A vs 4-4 vs Barkieboy when we both hit sets, but I lost a big hand to tsaga10 with Q-Q v K-K. I stopped playing around 3am with a healthy profit of $800.
Tune of the day: http://www.youtube.com/watch?v=WdO85Qf4Poc