London Calling, day 2
The time was 01:48PM and I was sitting with Fredrik at Pizza Hut when I told him that I was in a hurry to the tournament start with just 20BB stack. Fredrik thought that I could miss the first couple of hands so that he could finish his extra big pizza but I insisted that we had to go. I got there in time and could therefor play my first dealt hand of the day.
It was 9c-6c which turned into a flush and gave me some chips as well as a good feeling. The hand after I picked up A-A and a short stack went all in UTG for 11k. I flat called and SB shipped. He had me covered – 48K. Snap, boom, up to 104k! Good thing we didn't stay at Pizza Hut.
Later on I was up and down between 70K-90K for a while until I got K-K with 74k stack (Blinds 200/1500/3000). I raised in EP and SB went all in for 66k with 9-9 to hit a 9 on the flop…. Extremely annoying but that's poker! I busted the very next hand with A-3 vs K-J .
I was happy with my game in this tournament but it just wasn't my turn this time.
I registered to the £200 side event in the end of the late registration and my brother was already in it. I played at Trymeans table, nice! I built my stack and had a good feeling at the table.
Until the crucial hand came… Blinds 50/400/800, i had A-K on SB. The btn open-shoved 18BB, I reraised all in 32BB. The guy on the btn turned over Kc-9c , thinking that it was time for showdown. Therefor, so did I. Bad was that BB had still not folded and he was now happily calling my AK with his J-J since one K was out of play. Note that this BB-guy was really tight and would probably have folded his JJ when i 4-bet all in there! Still 5 outs out there though, at least until the J came on the flop. I was down to a short stack and busted just minutes later with K-T vs 9-5 .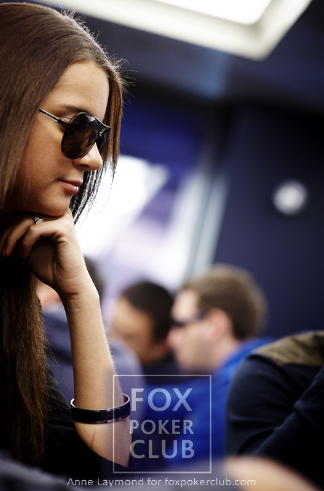 I'll leave the word to my brother for a second:
I played my first live tournament ever today, 6-max £200+£15. I started pretty bad by making a bluff that was called almost instantly by mid-pair, doh! Then I started to get some hands and also good flops. For example J-J on 589 flop rainbow. C-bet, get called, turn 4 , bet again and called again. River comes Q and we both check it down. He shows for gutshot draw hitting his stupid Q for better pair. I subtly said "well played" meaning "nice catch idiot". I also flopped and ch/raised a mid-pair, including flush draw, with 8d-9d and was called. Turn was A and I bet again. Once again he calls and river gives me nothing. I check, he bets, i fold, he shows A-K (don't ask me why he showed, or why he called me on flop for that matter, I haven't got a clue).
After a period of cold hands and an outdrawn set of tens I was down to 8,7k(29BB) when I finally picked up the ultimate hand of success. Yes, J-J again! UTG raises 4x, one calls, and I shoved. UTG insta-called with rockets and as if I wasn't overwhelmed by my own devestation already, god decided to put everything but a J on the table.
I'll go to bed now. I will probably dream about jacks, named Jack with big jackets, coming to tell me that I can't play them.
Good night / Fredrik